The New Zealand connection............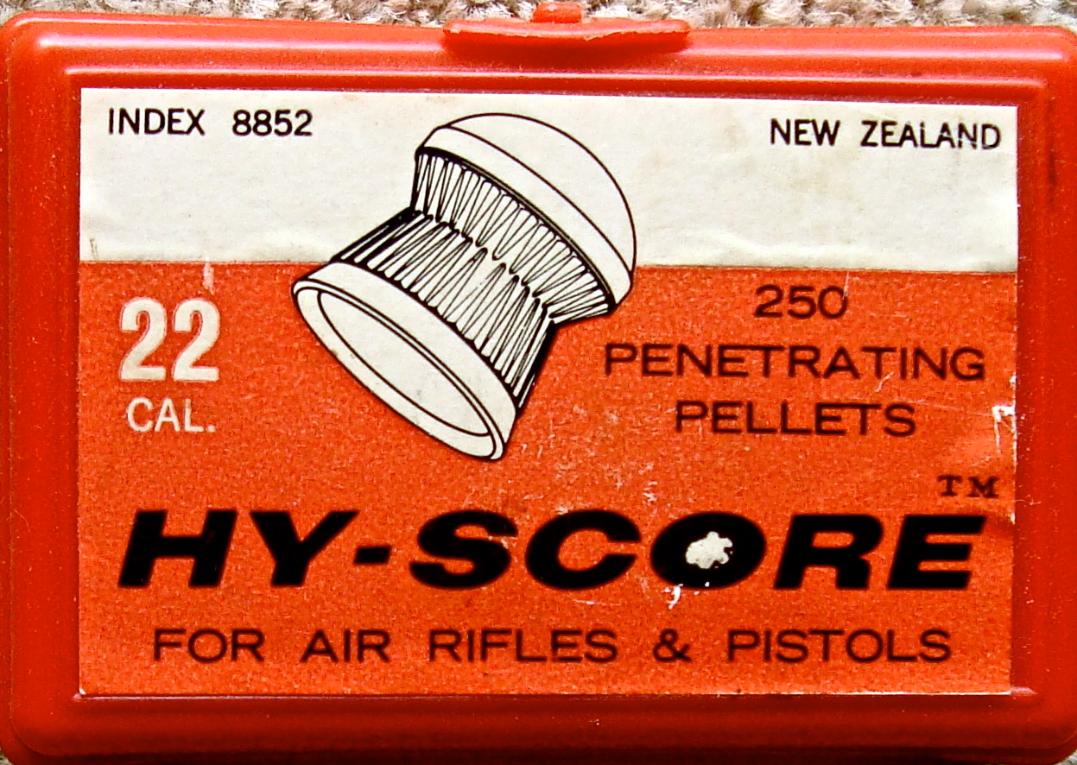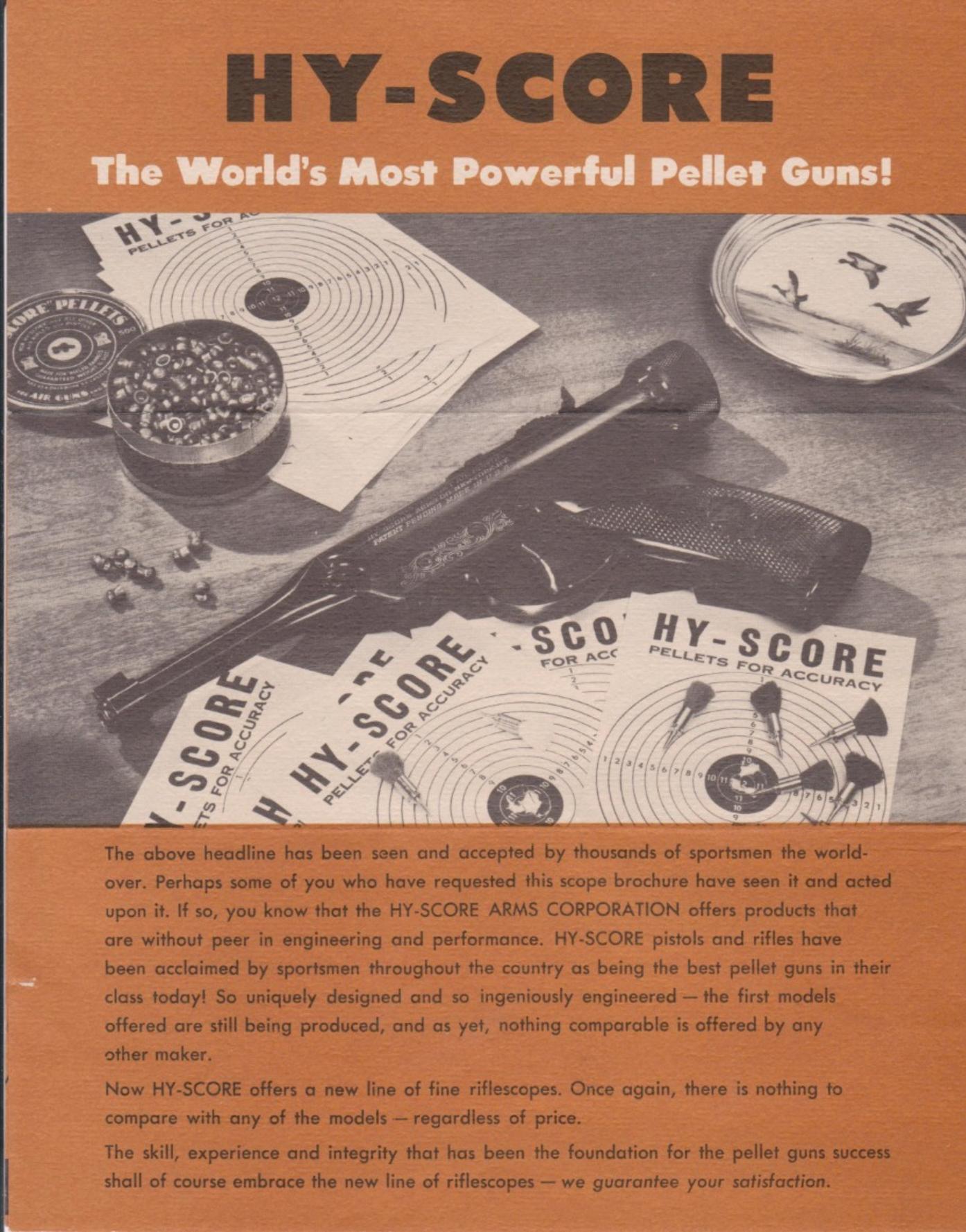 1948 HY-SCORE advert from Johnson Smith Novelty Catalogue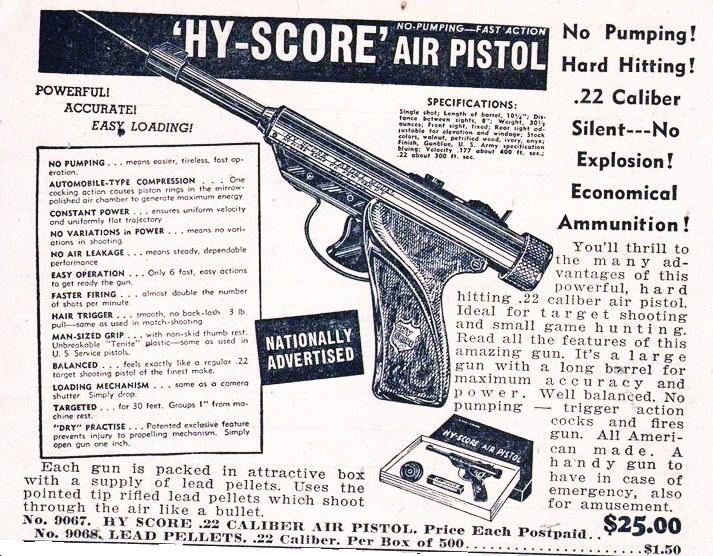 1948 General Electric Advert-Hy-Score Grips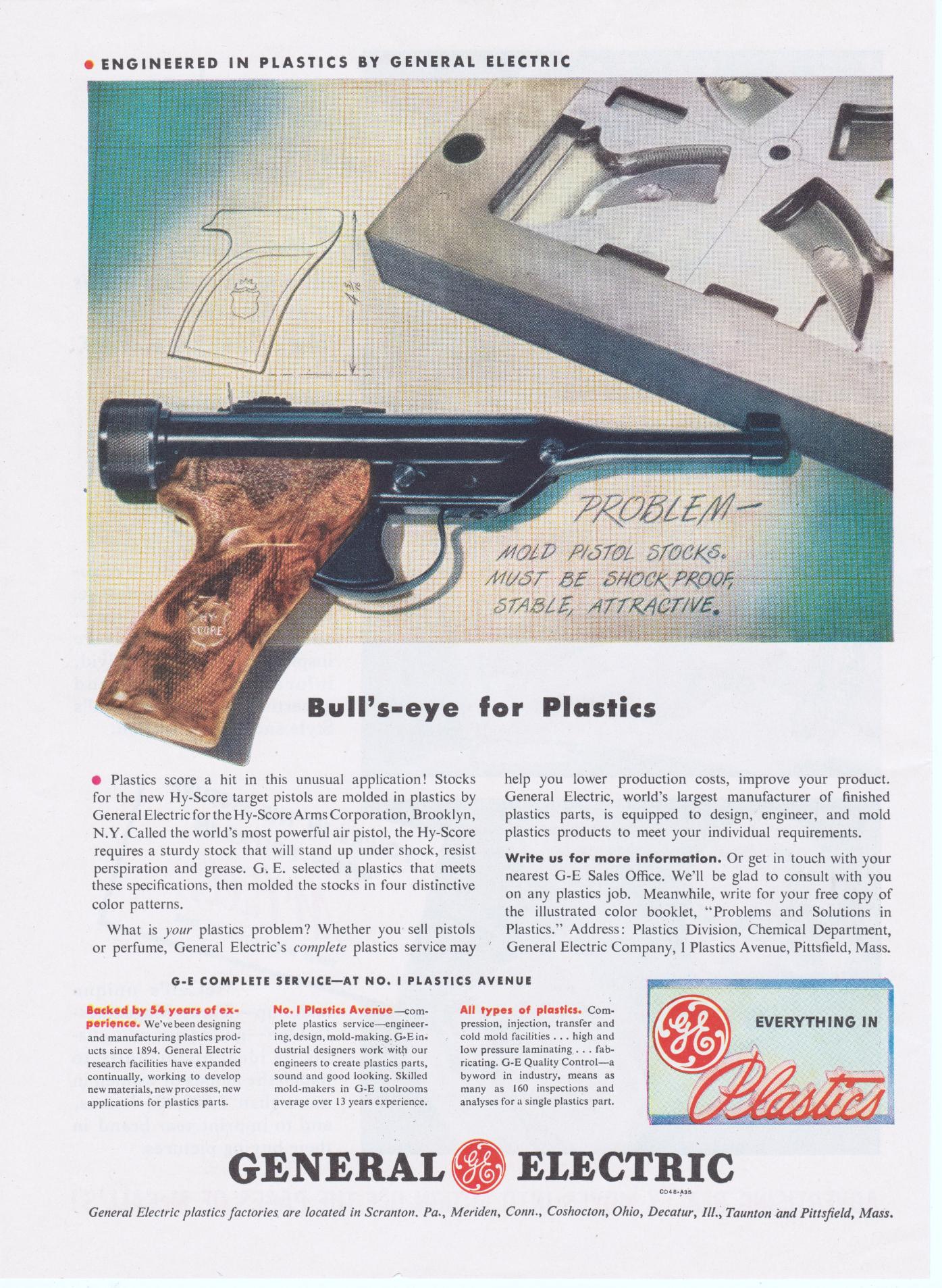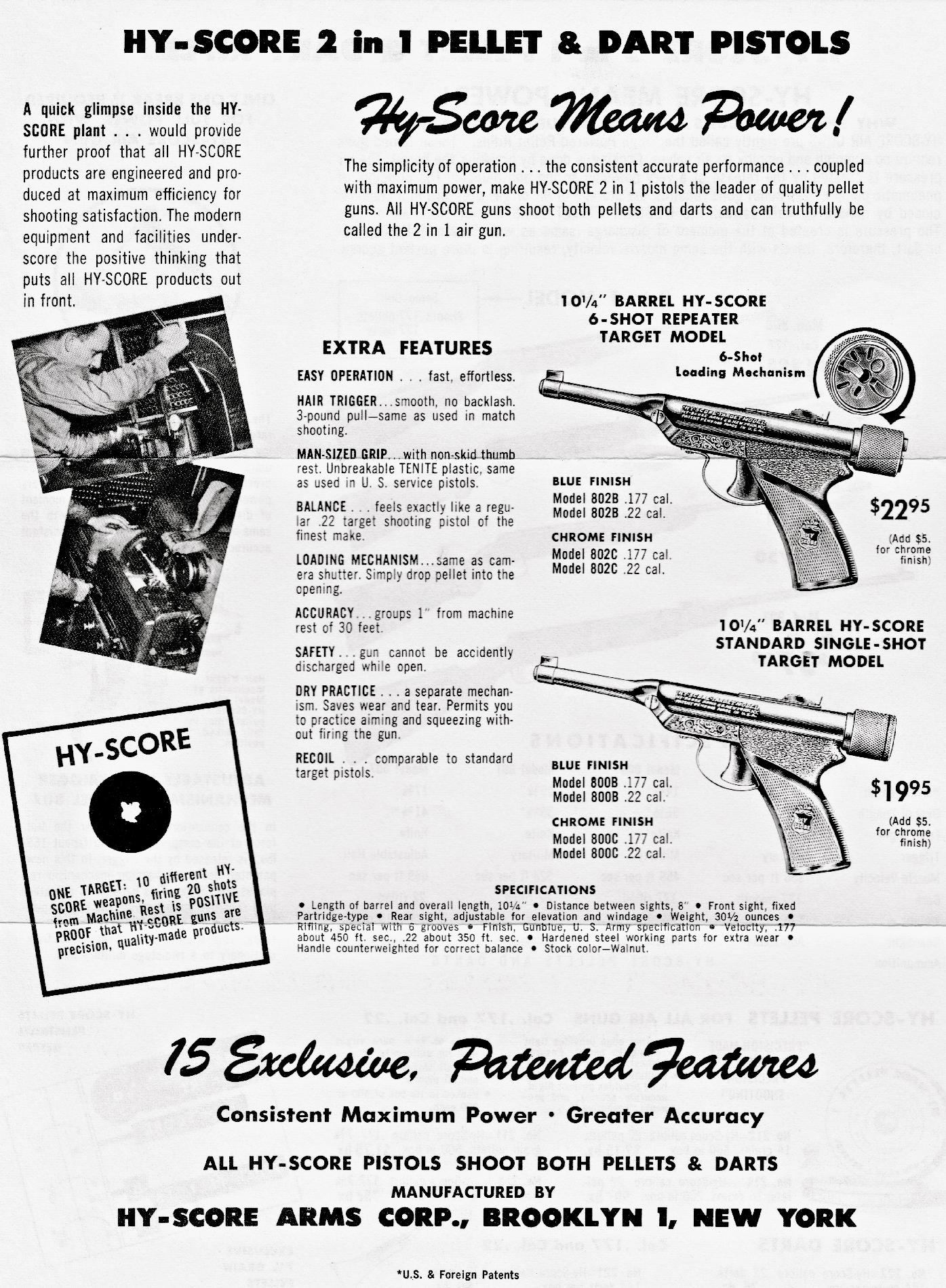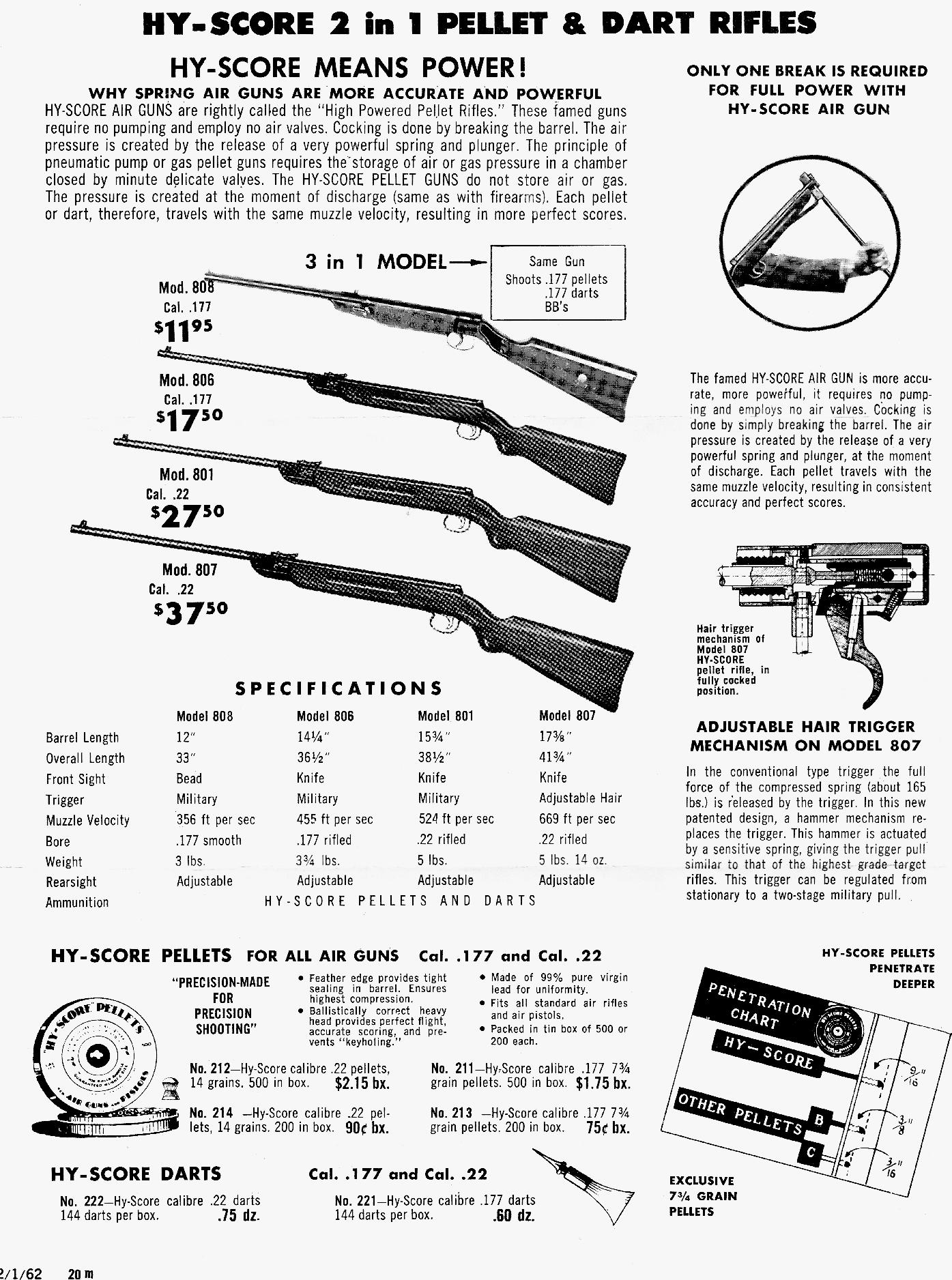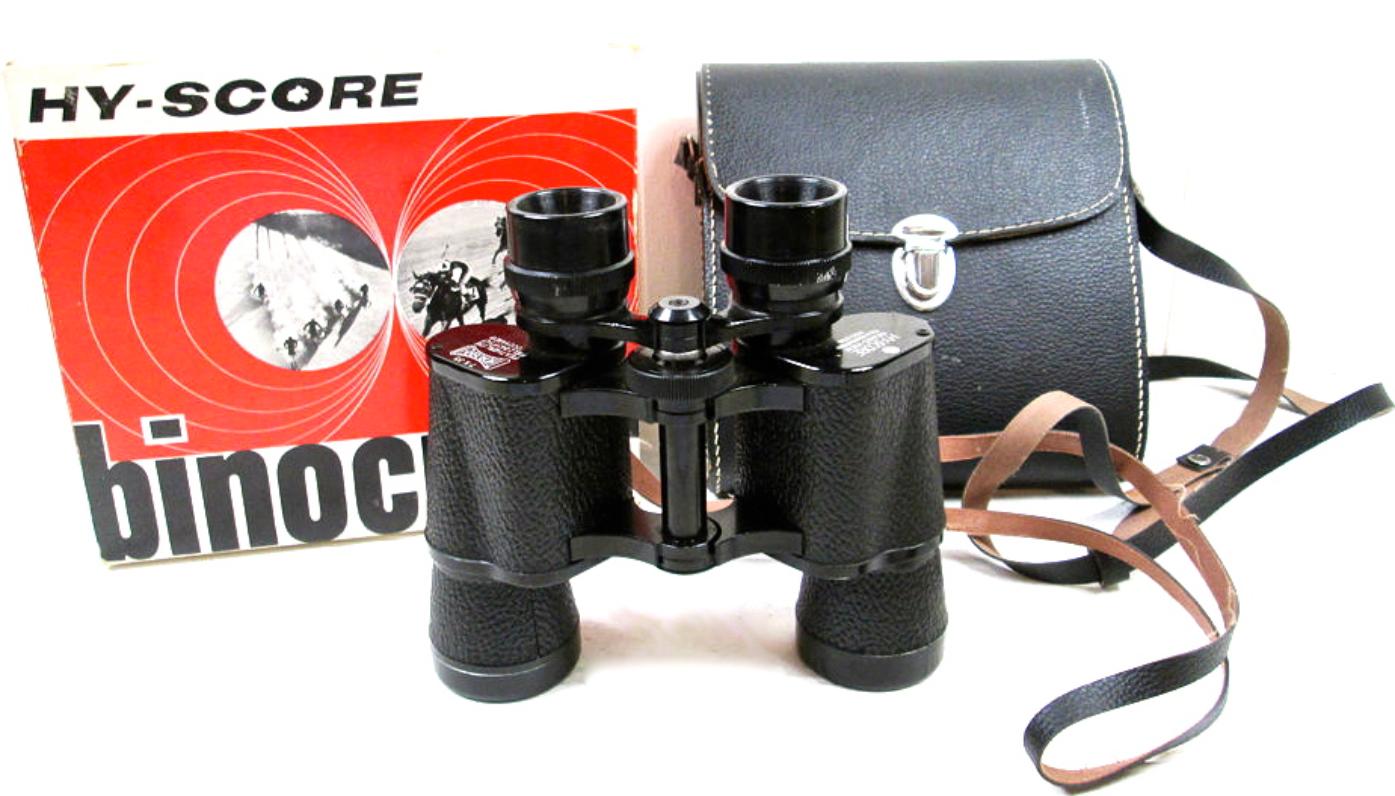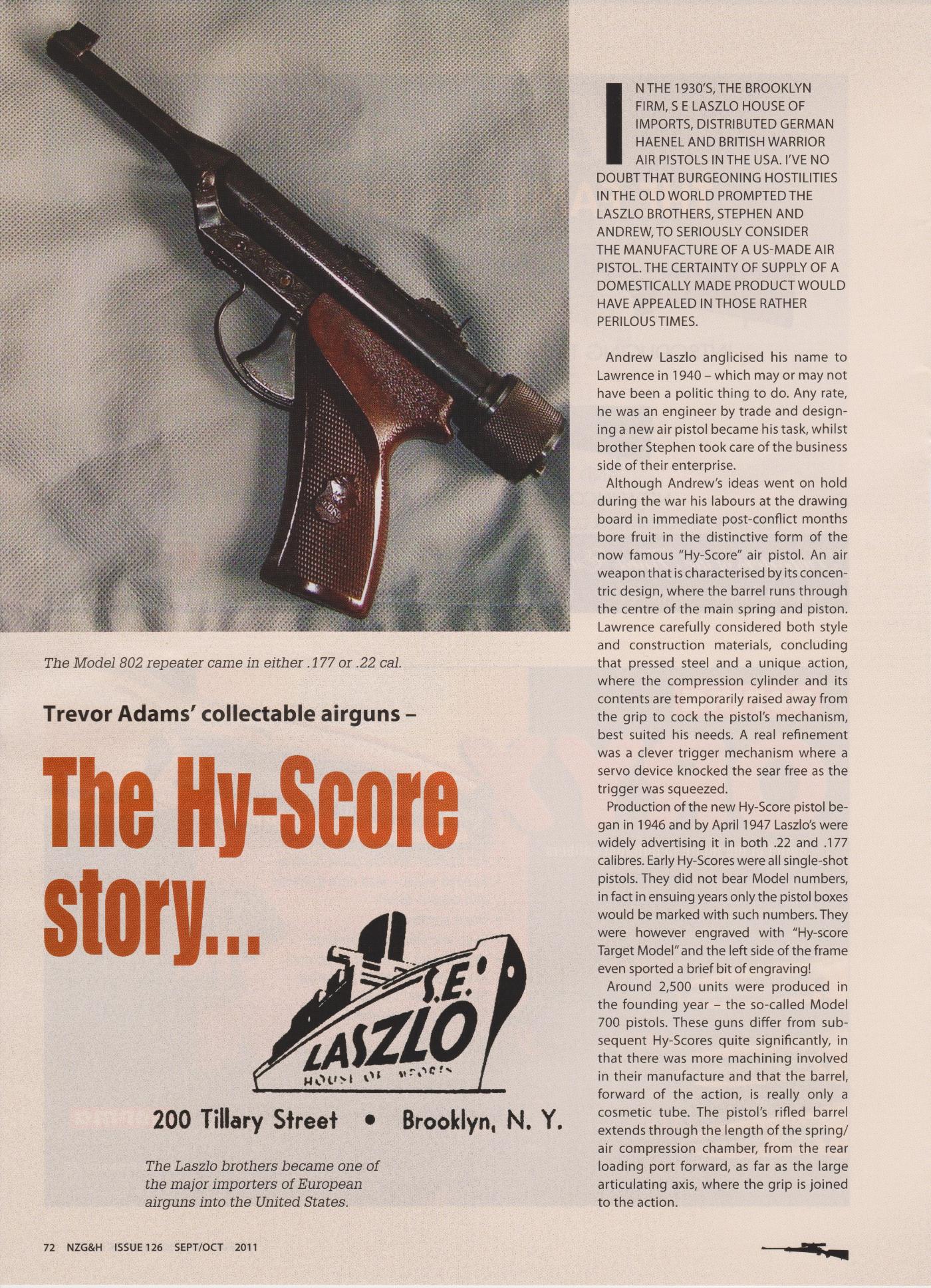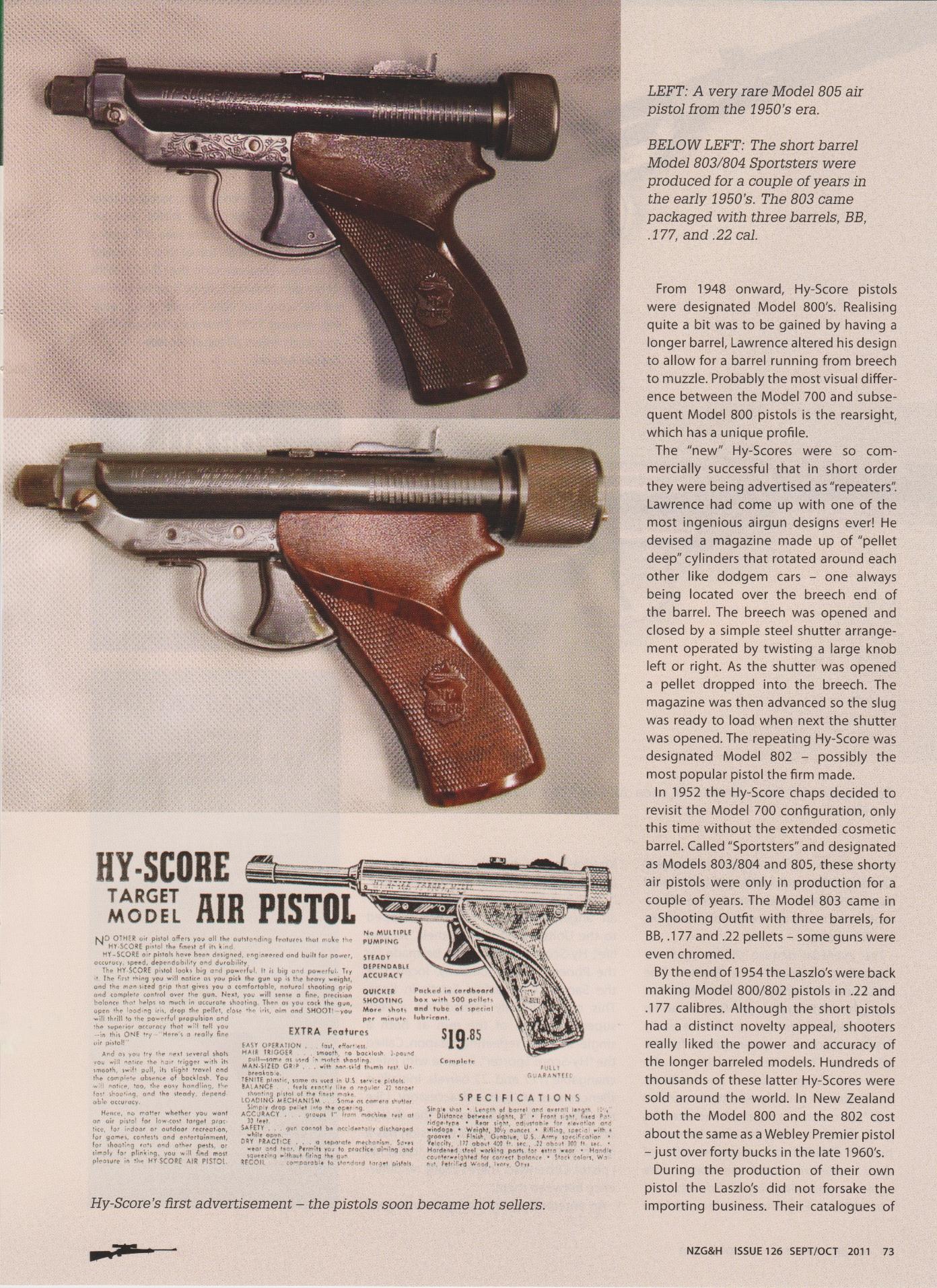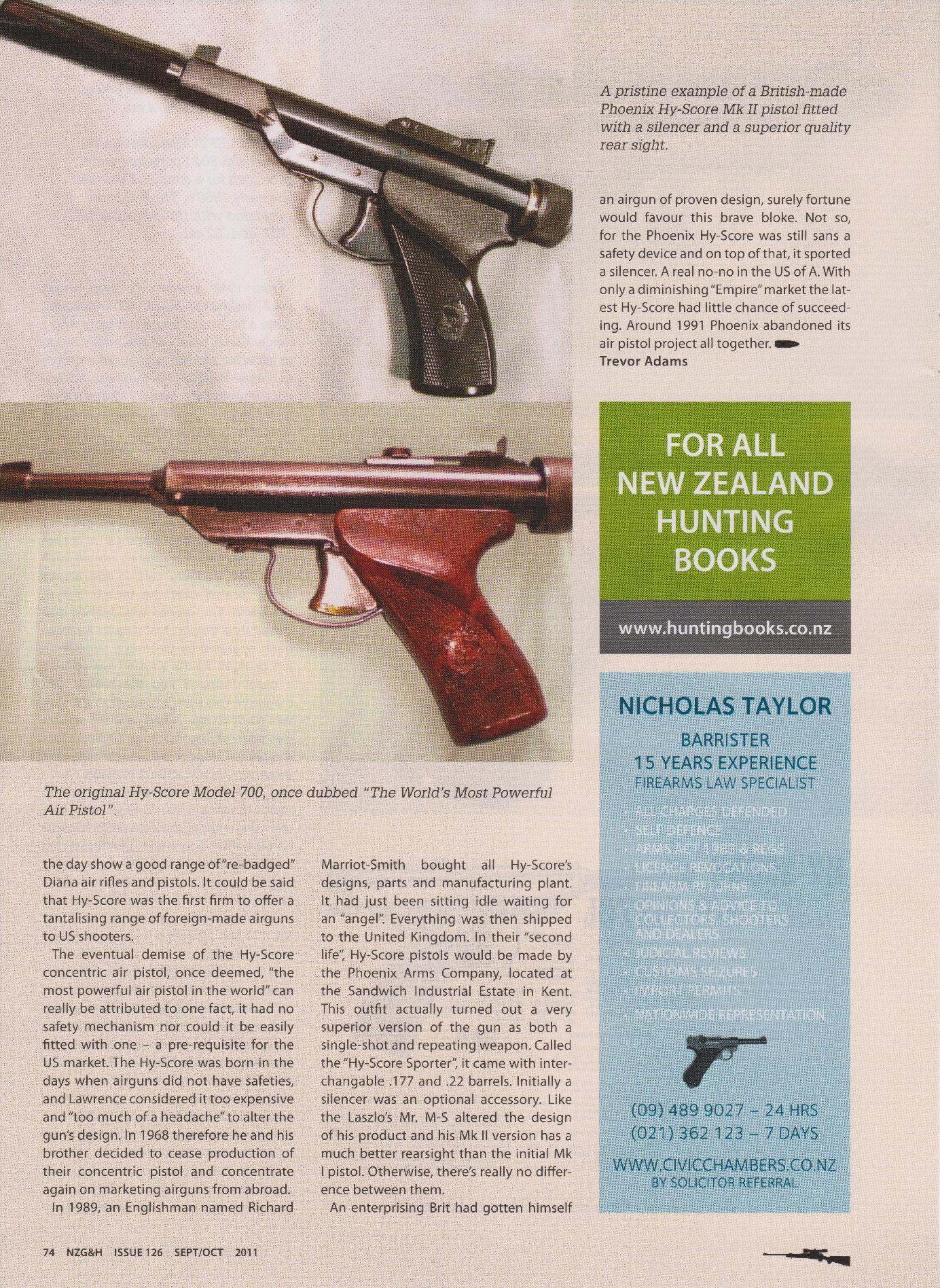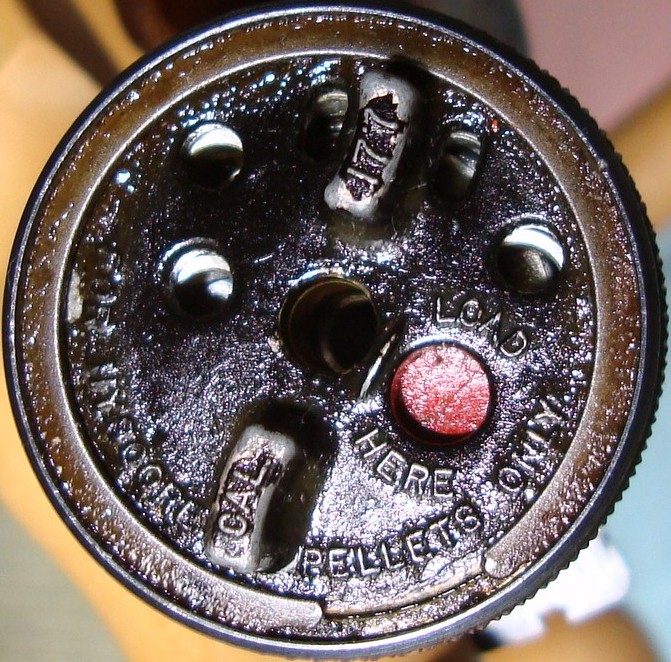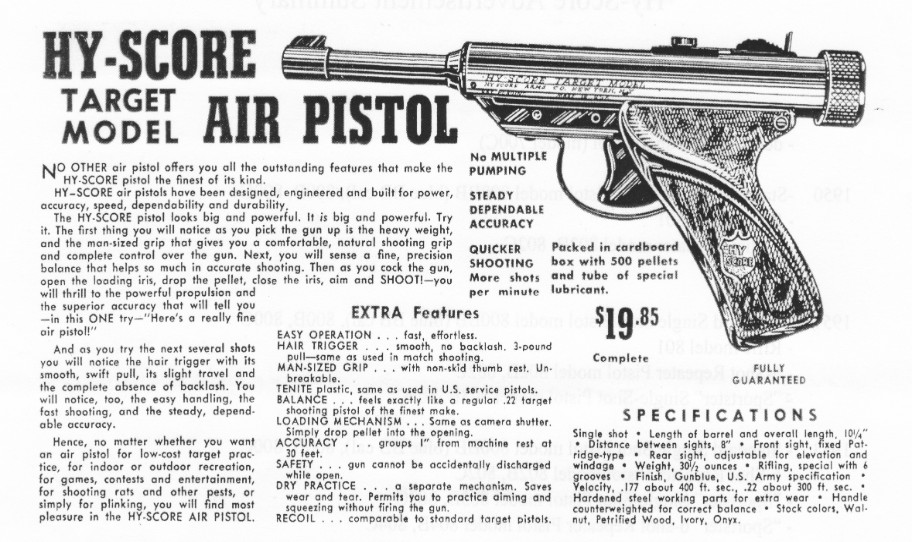 Popular Science June, 1947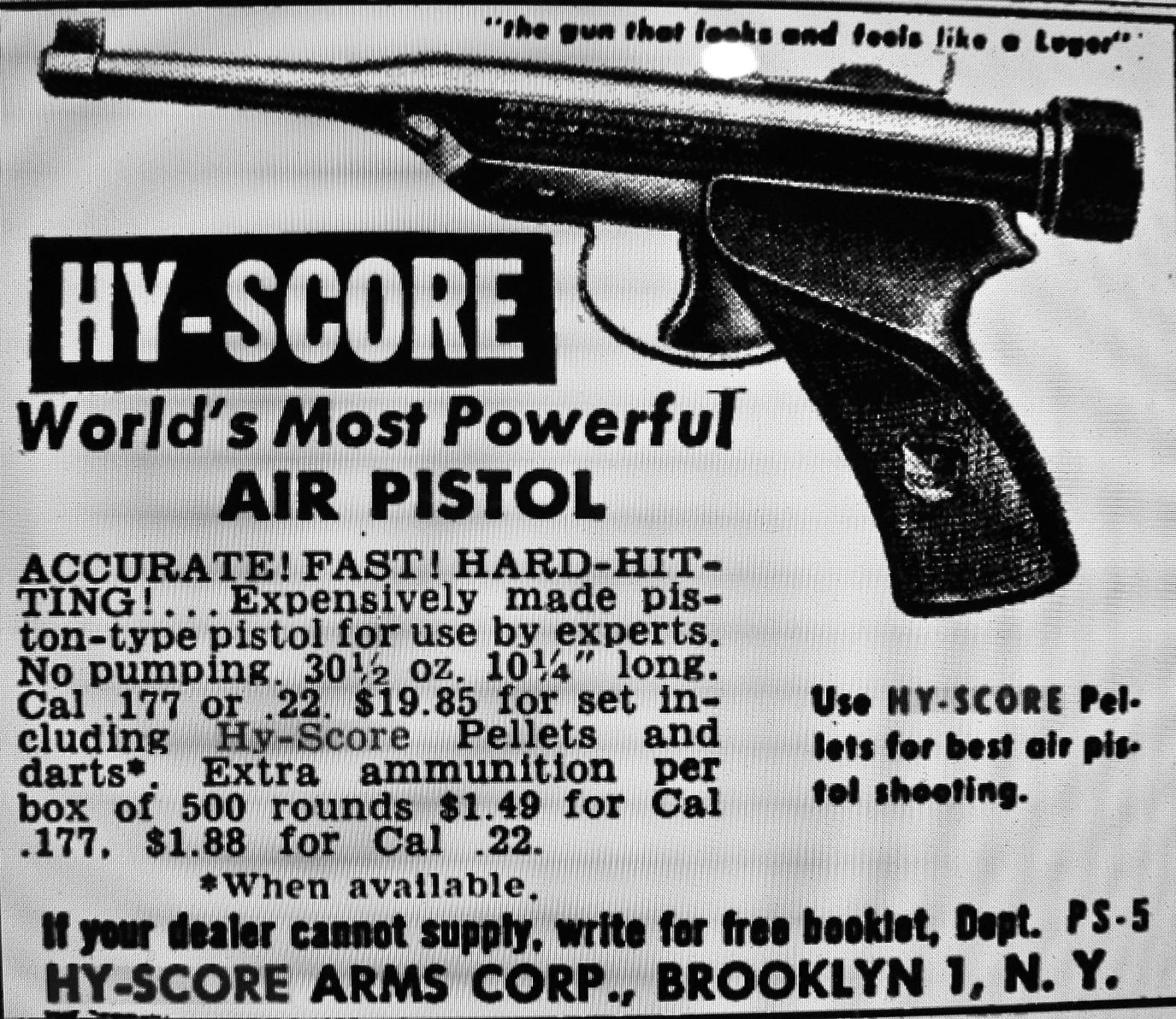 Popular Science June 1949.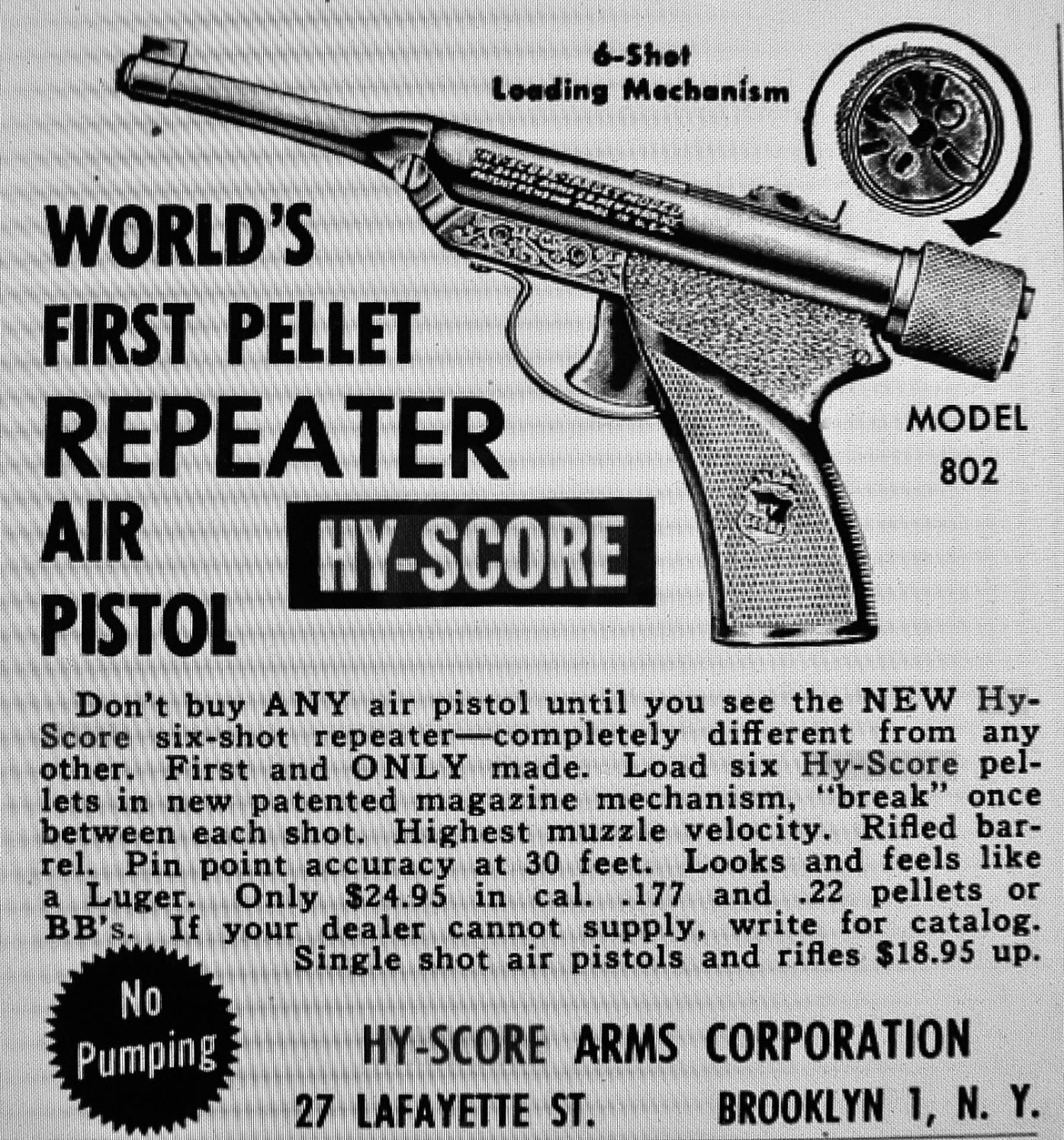 Popular Science,July 1950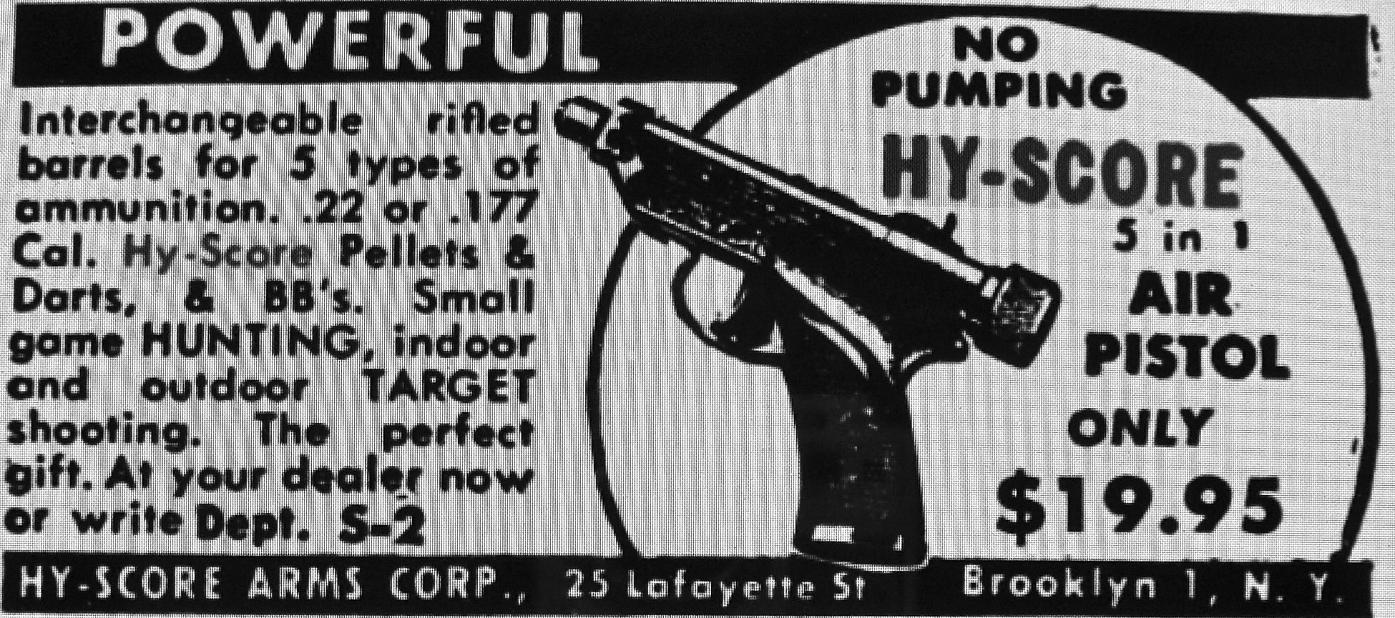 Popular Science July 1951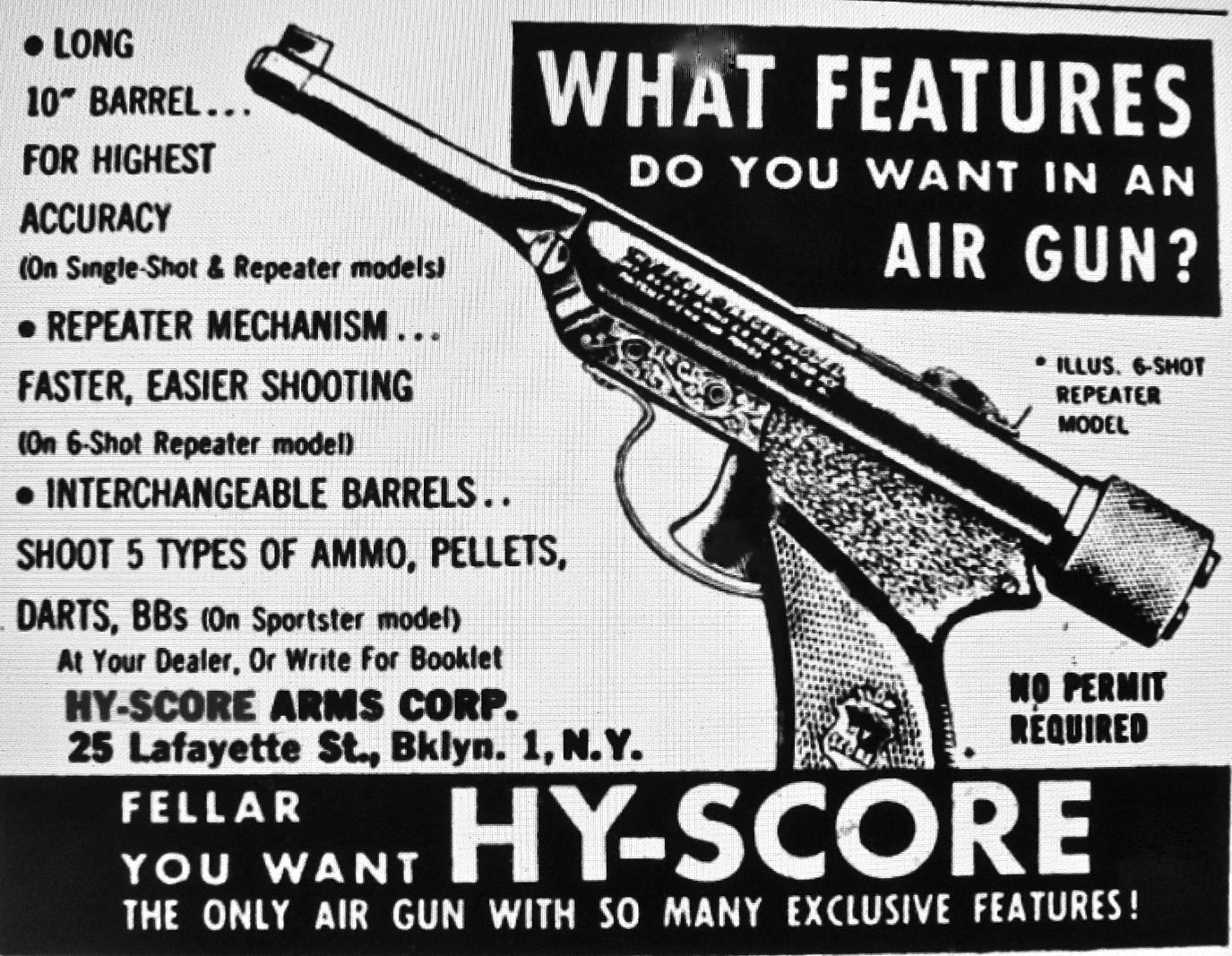 Popular Science,January,1952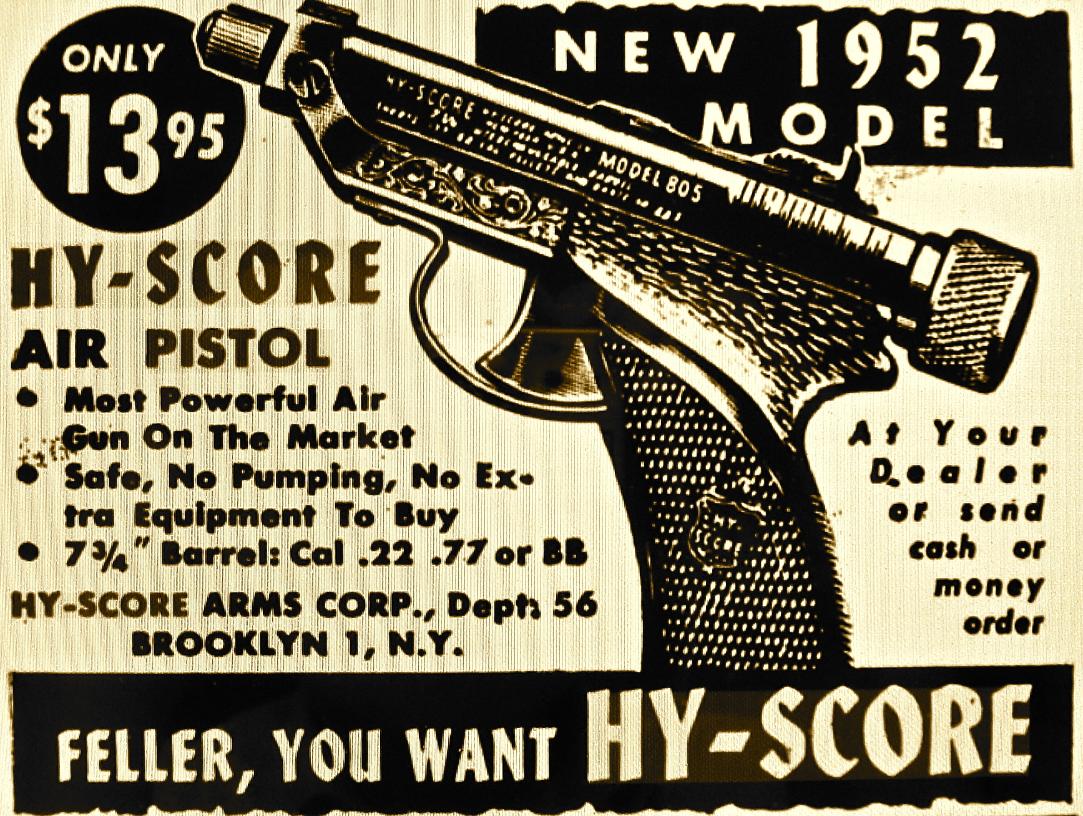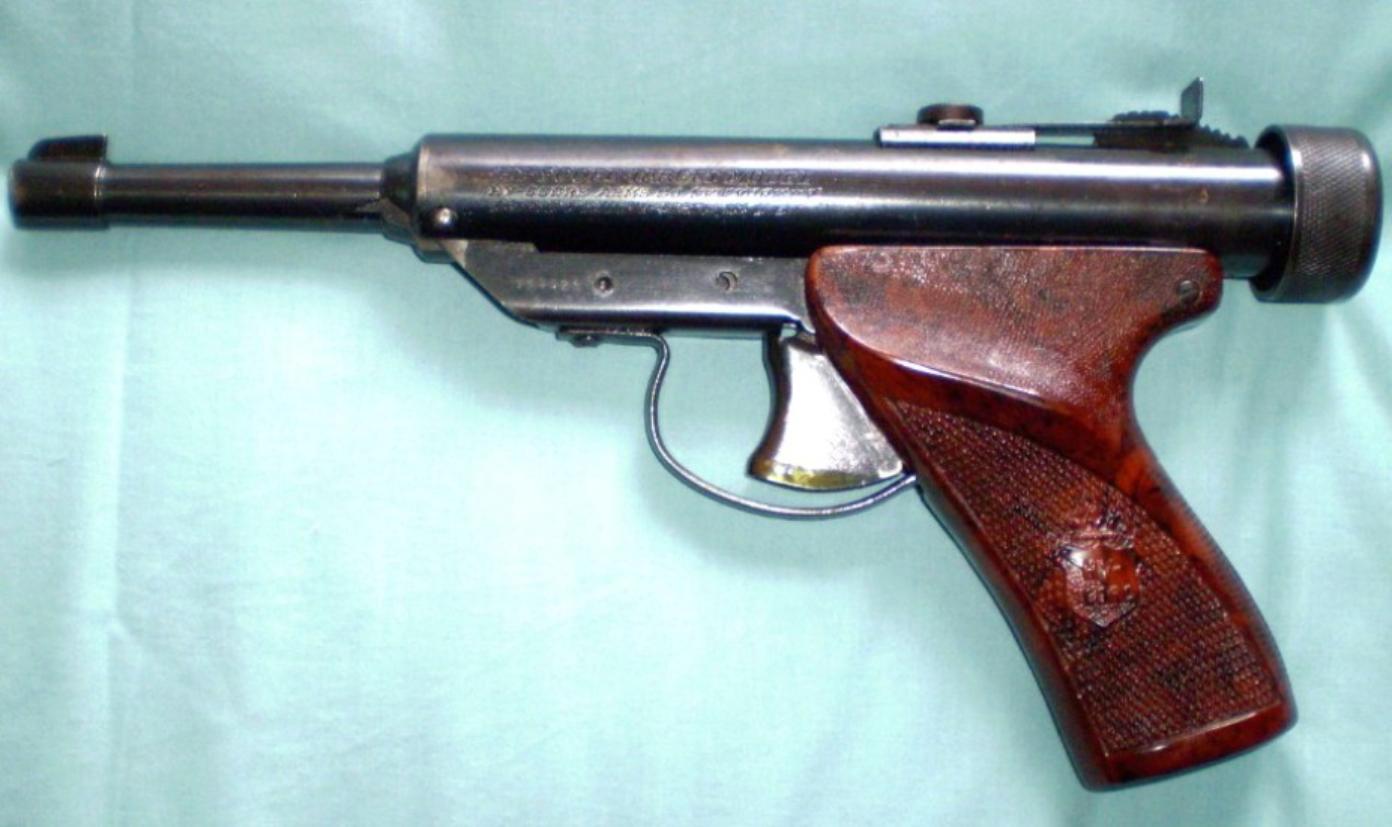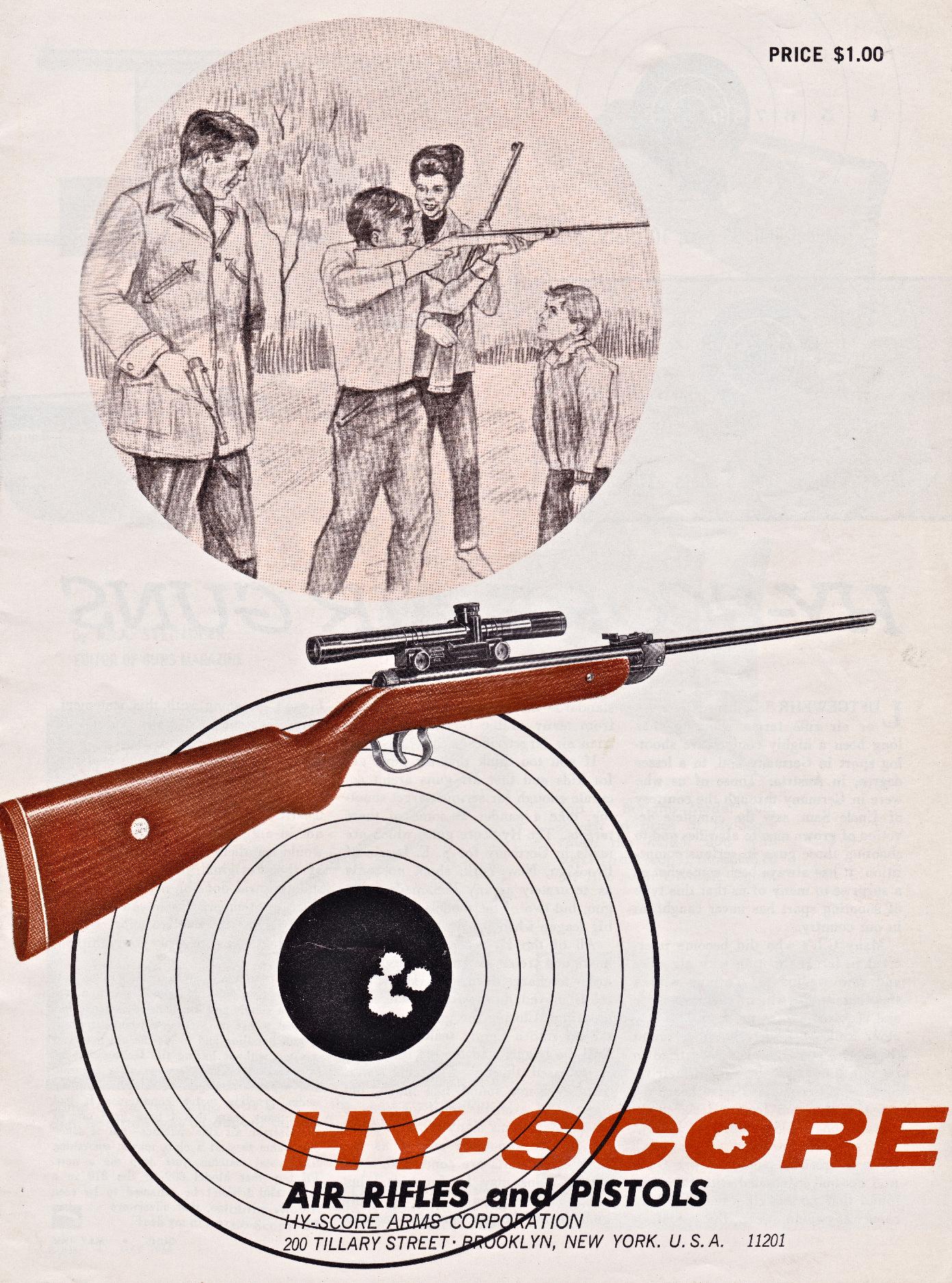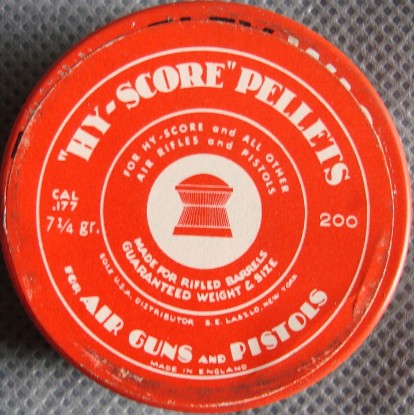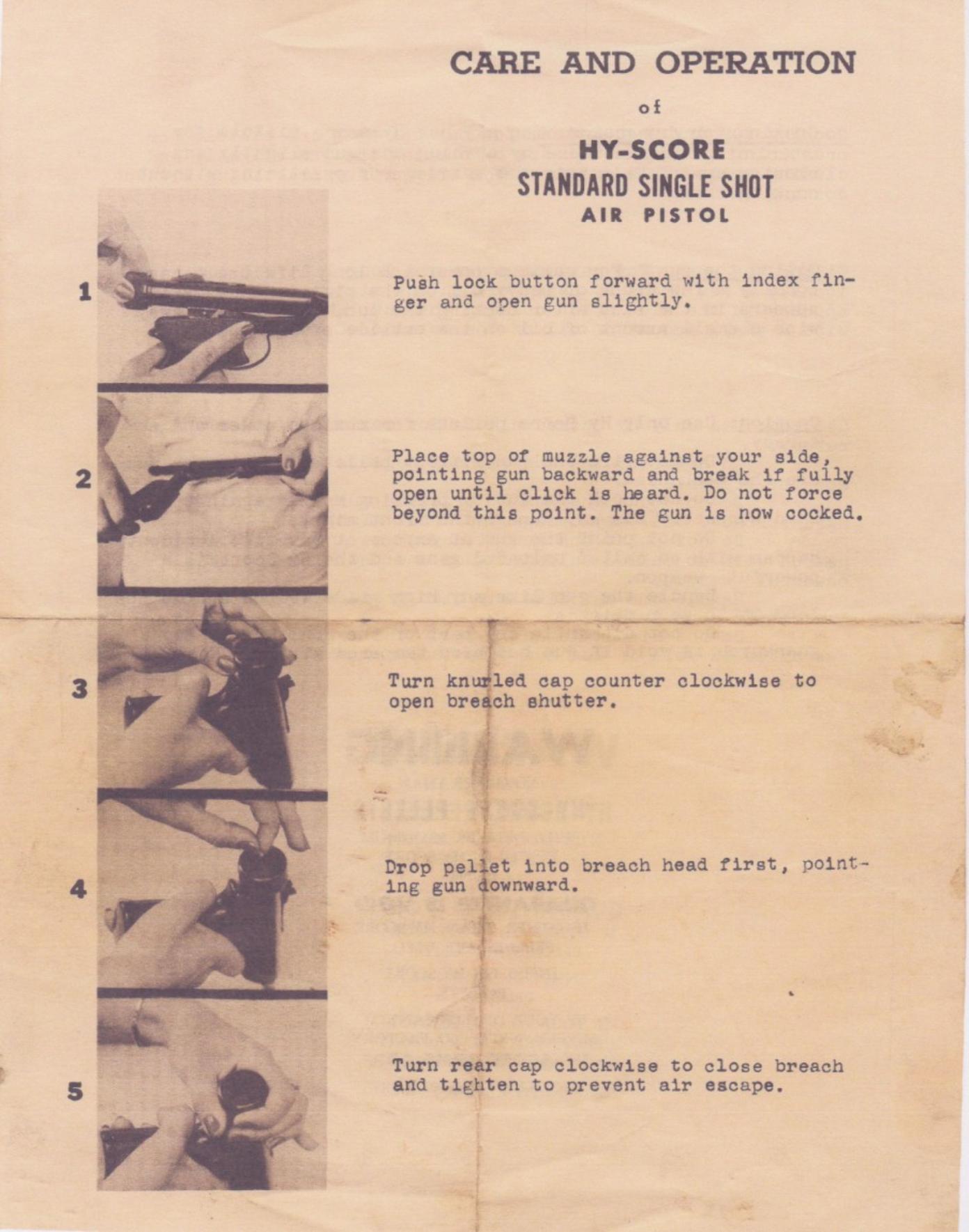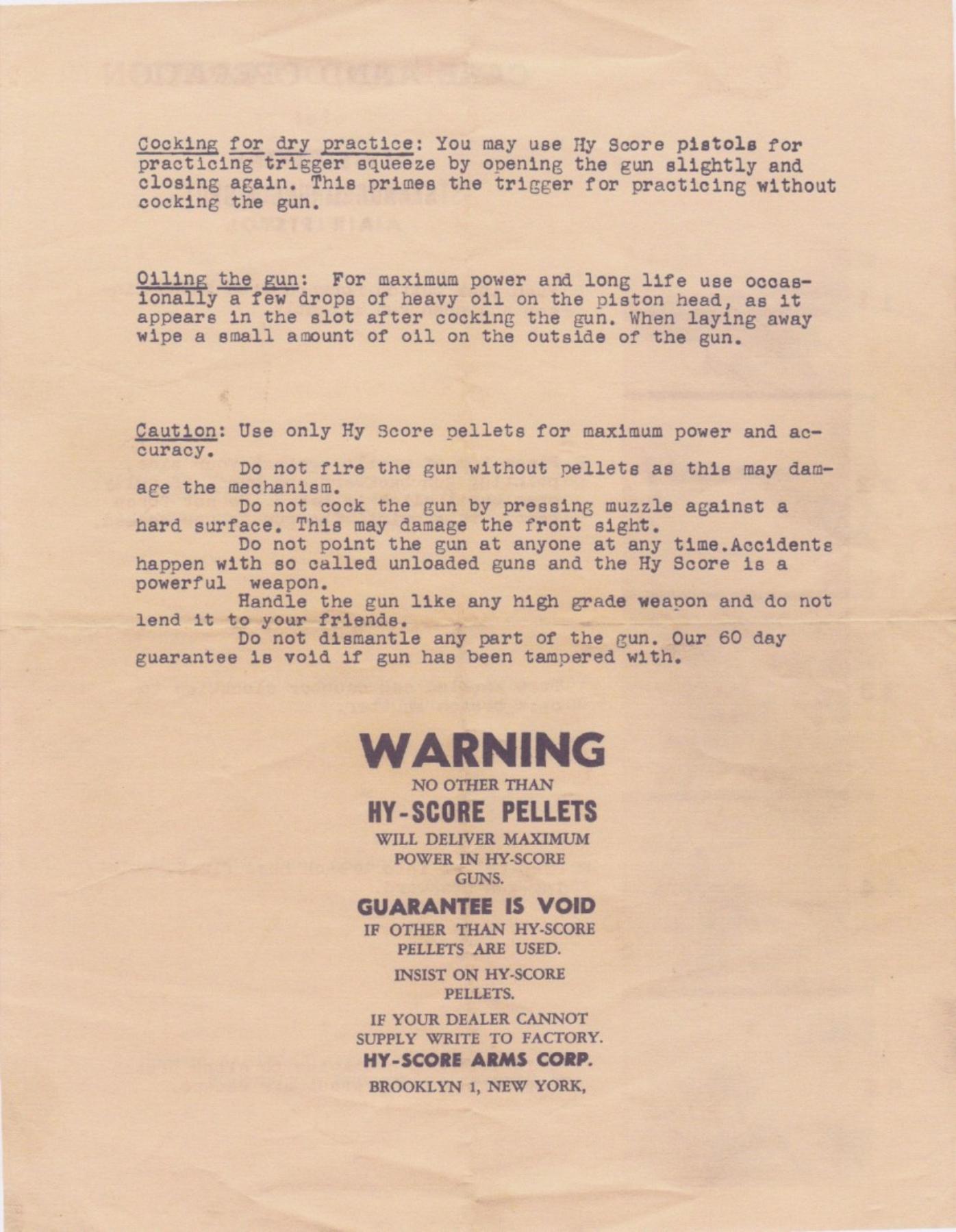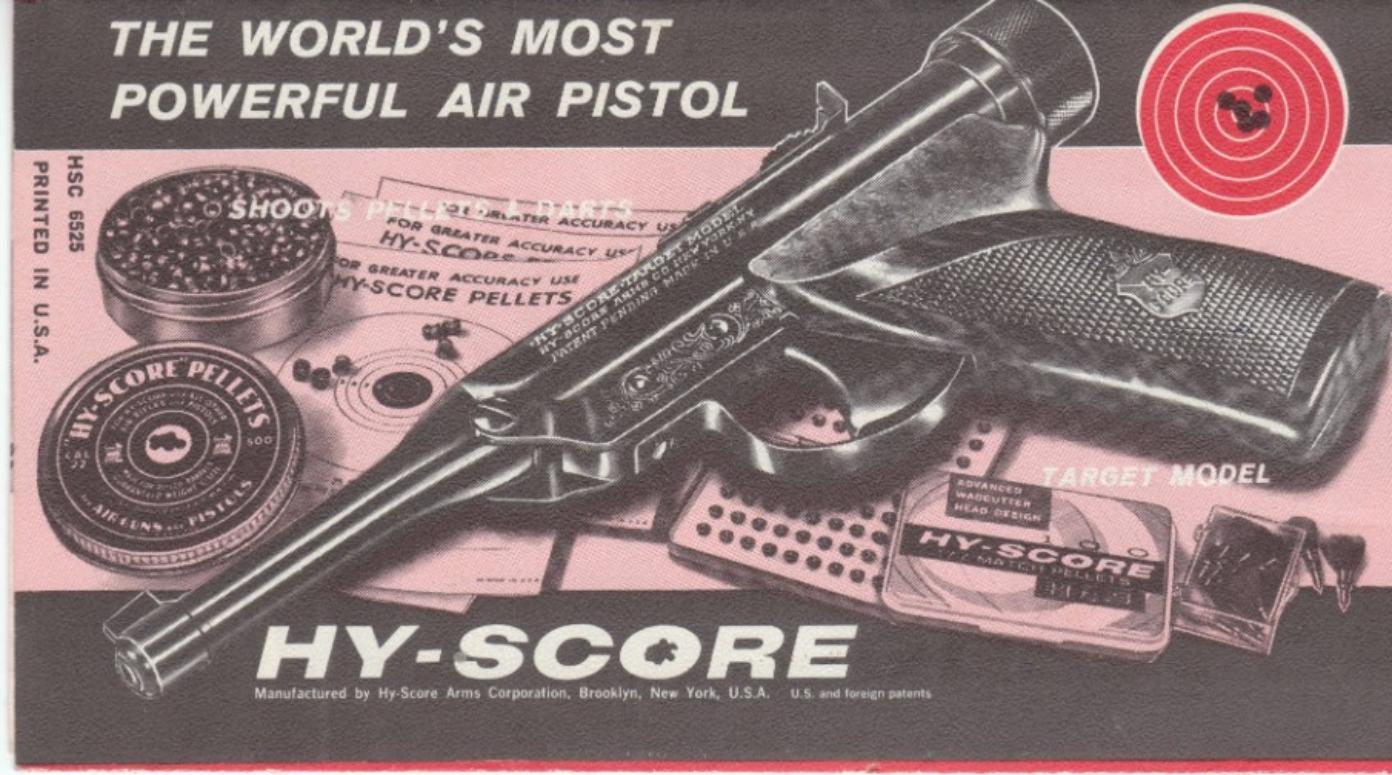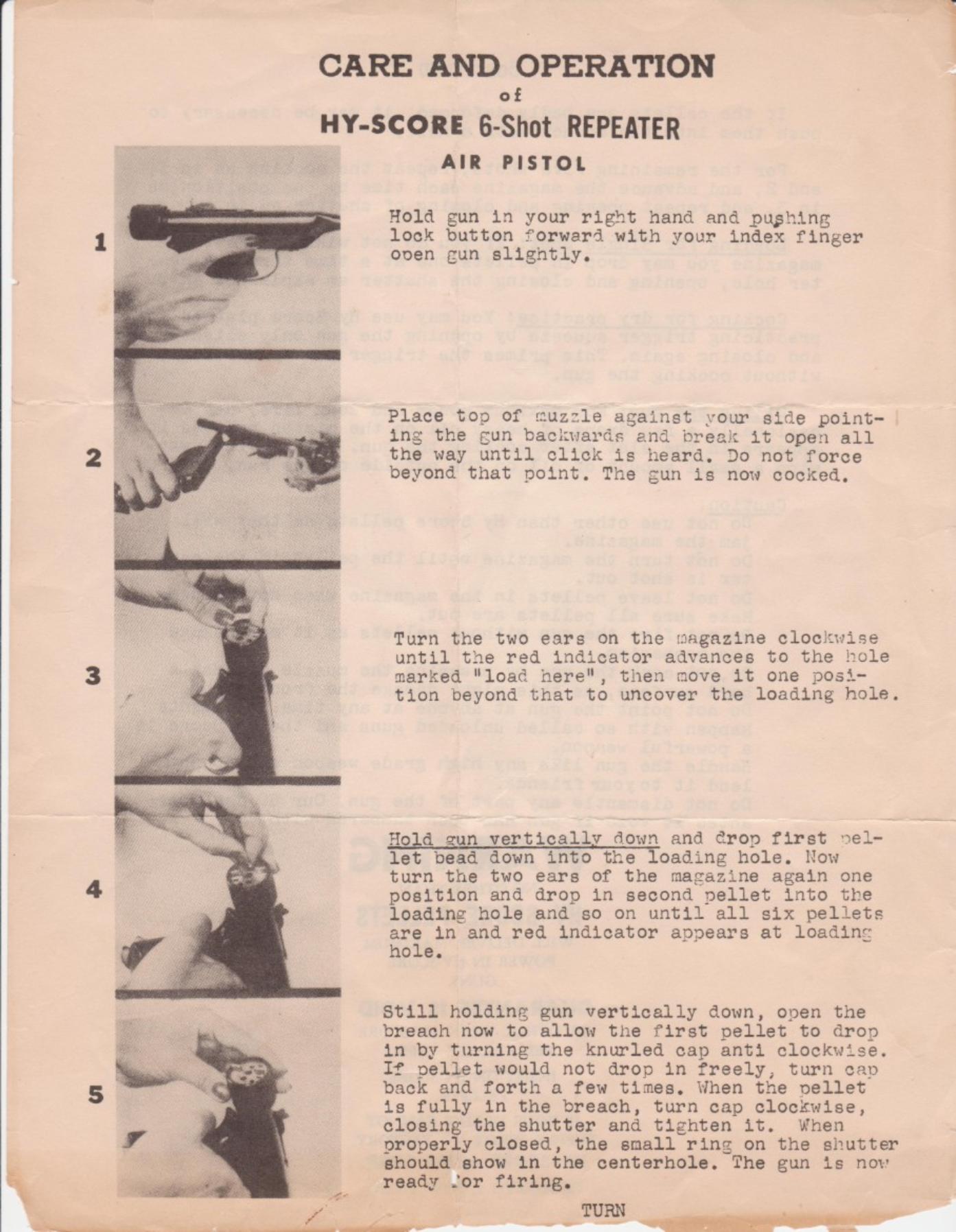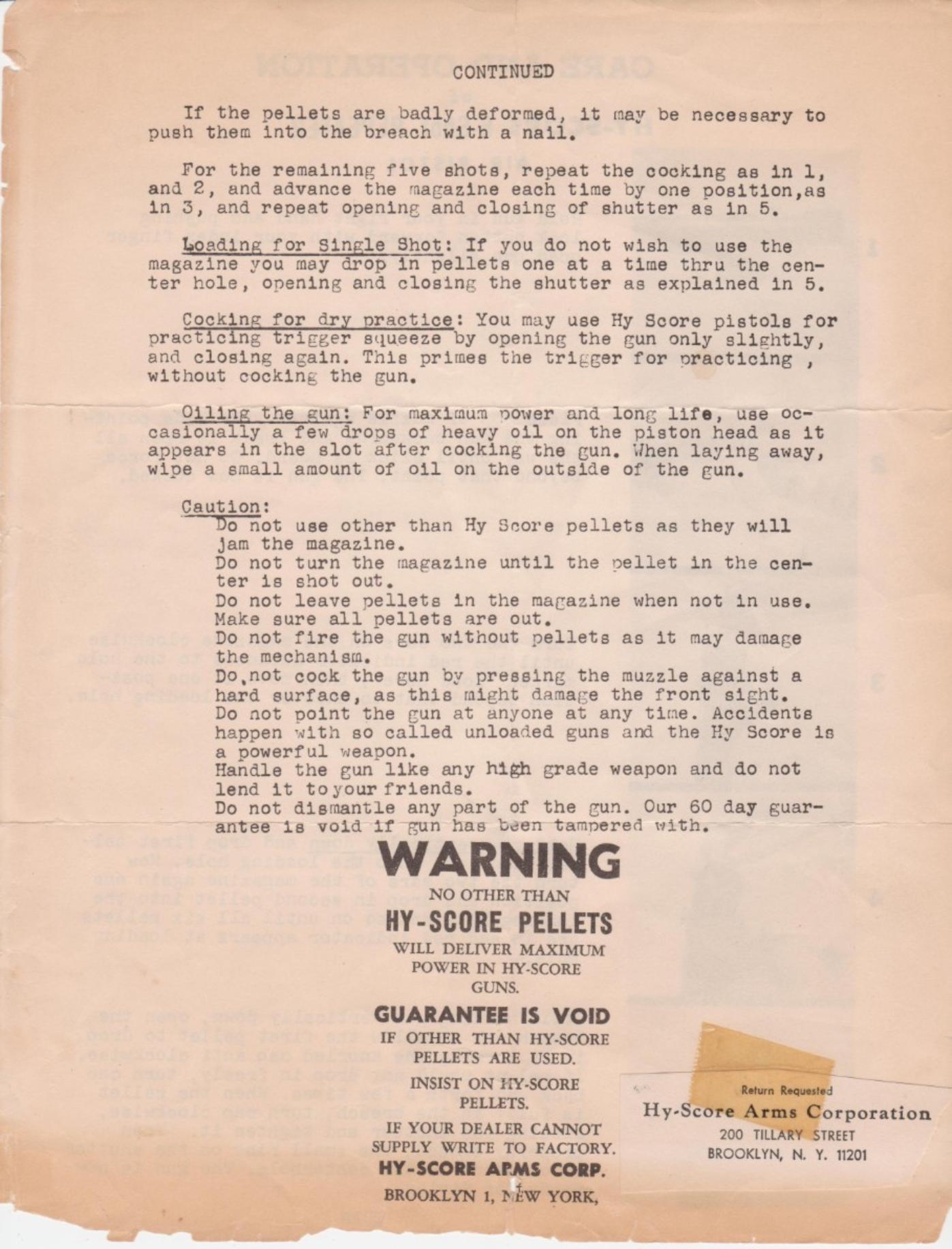 1989-91 The British HY-SCORE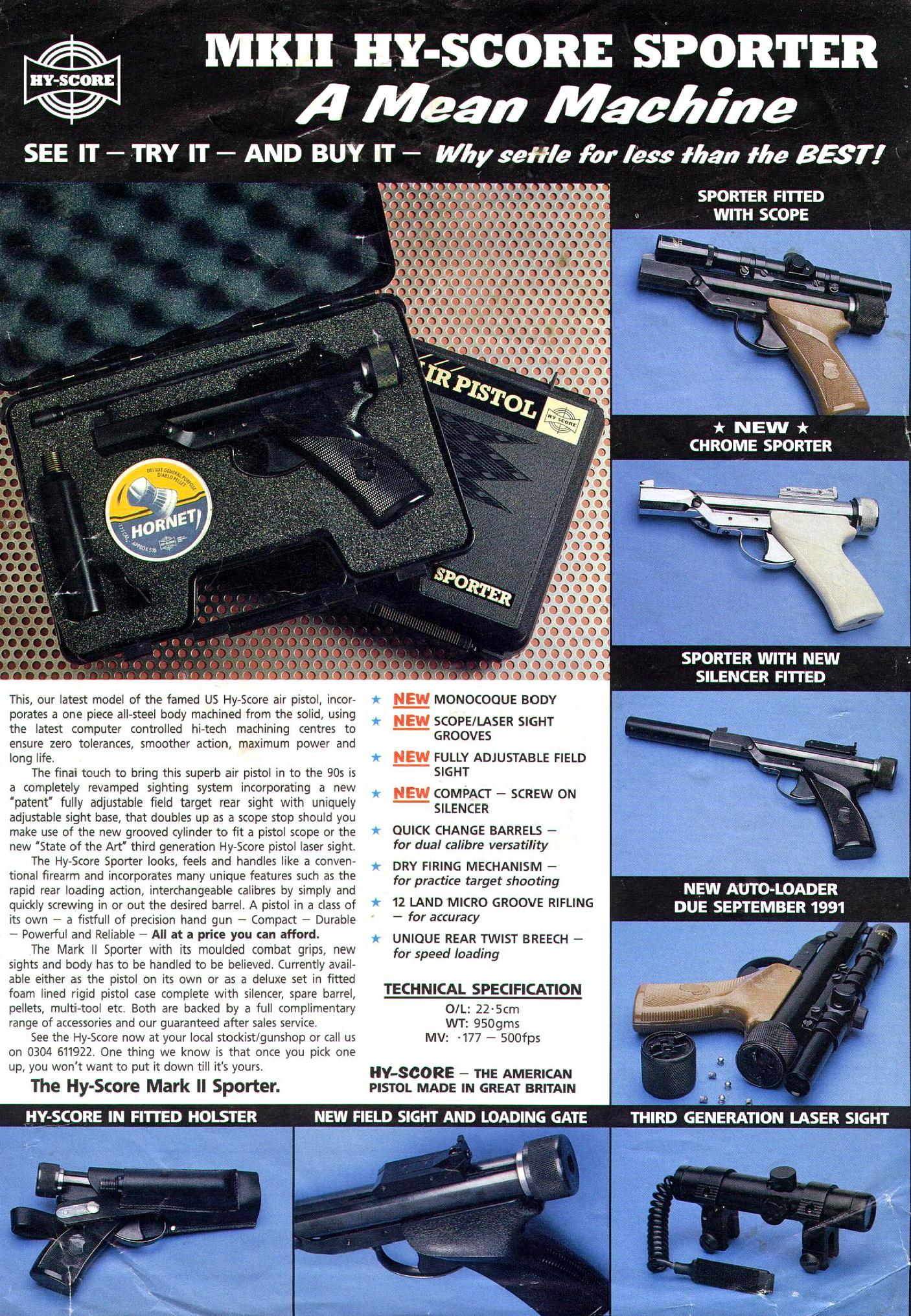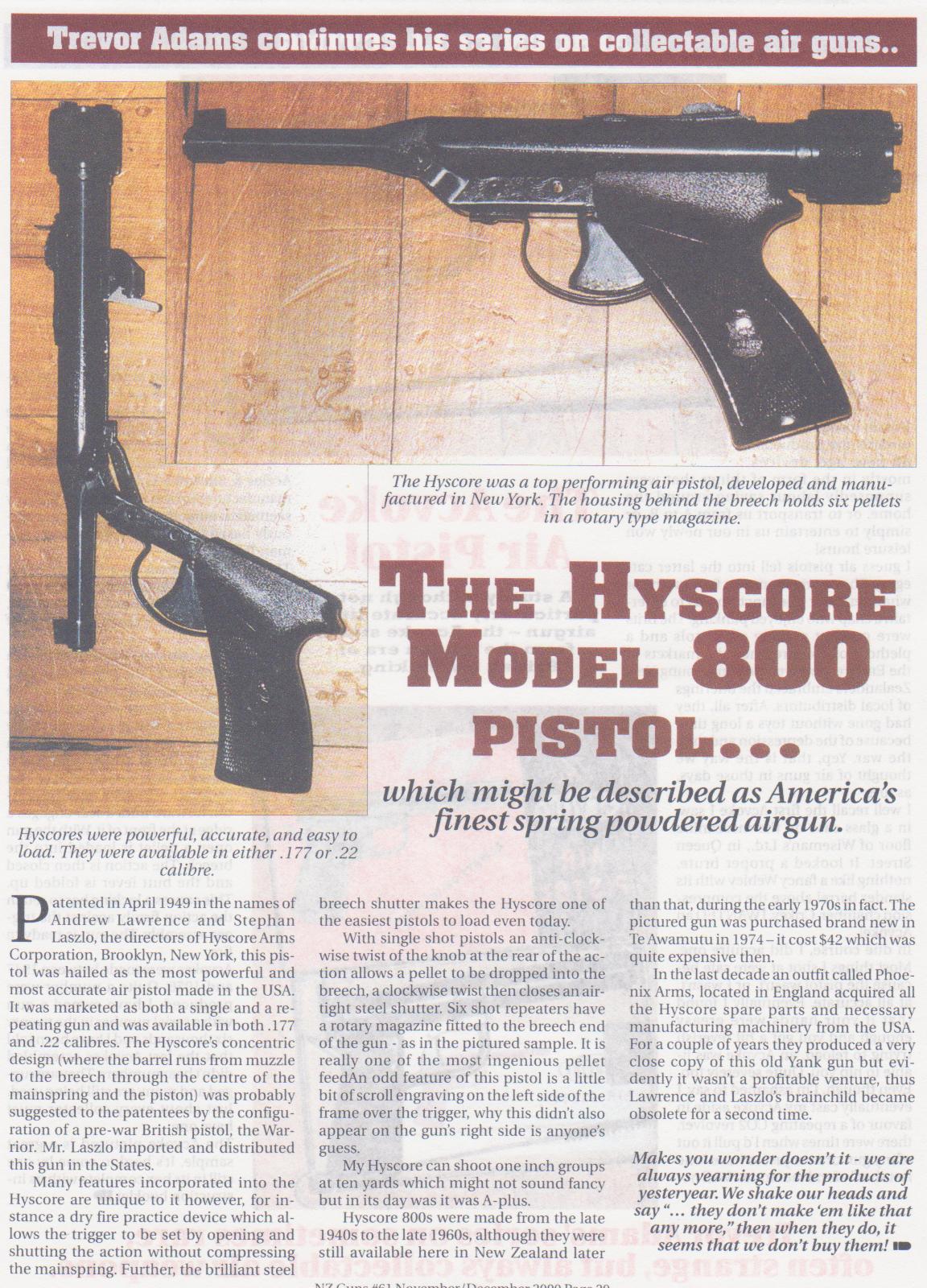 The Hy-score Model 805 Pocket Air Pistol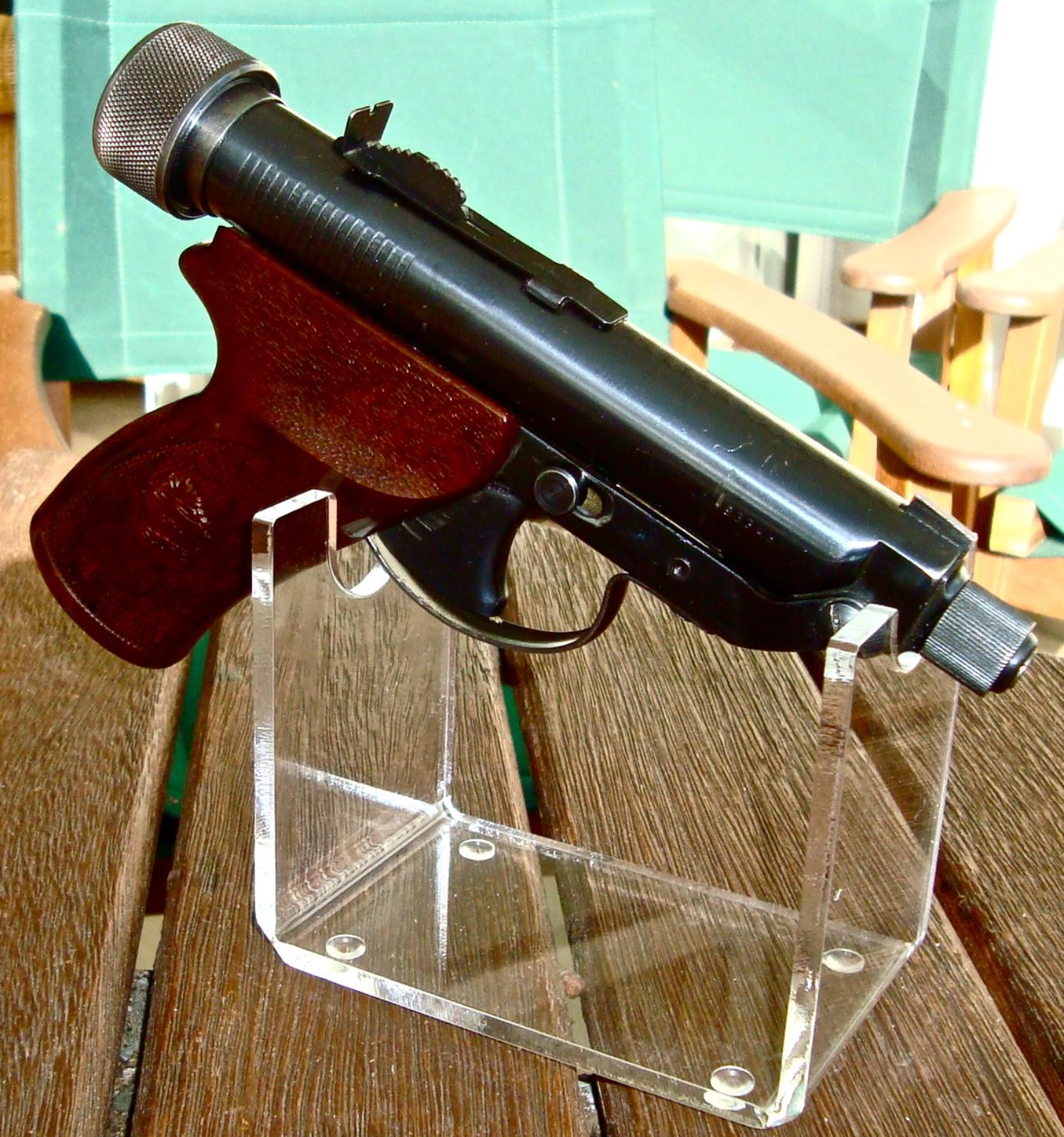 Not so long ago I visited a country gun show because I'd heard a particularly nice Birmingham air pistol might be up for offers. The auditorium the show was held in was filled with promise. It was alive with excited debate,guns and money were changing hands. If I was going to acquire a nice looking ABAS Major pistol,I'd need to keep my wits about me. I traipsed around stacked tables,it was like being in a Mumbai marketplace playing host to a wild west show! A few vendors had some delectable wares in the air gun line but to my frustration I found many items were subject to "hold" conditions or even had "deposits" on them. All collectors will know the thrill of coming upon an old and rare item ….and the dreadful frustration when it is discovered the desired thing is beyond your reach for some reason or another. We console ourselves with Inadequate nonsenses like,"I didn't make my day BUT I still have my money". What a silly saying,price is very soon forgotten,when it comes to collectables.
I asked a fellow enthusiast where I might find the vendor with the boxed ABAS Major air pistol. "Over there,"he nodded ,across the room. I moved quickly to a very interesting table and waited,and waited.Seemed no-one was attending the counter. I turned in disgust-only to see an ABAS,THE ABAS,being sold to a chap at the table behind me! What a mistake to make. Crestfallen ,is the word,I think. I contemplated heading home. Half-heartedly I had a look at a glass-topped cabinet,at the back of it was a short-barreled Hy-Score pistol.Most collectors know of, or own,one of these guns,the best spring-piston air pistol to come out of the USA. I asked to see it. Condition was excellent and it seemed to work just fine. No price tag on it though…so I enquired, "$140NZ(around $95US)to you old chap" was the reply. I hesitated,an OK price but(thinking)….a train of thought interrupted by the vendor saying,"it has it's box". "That makes the difference",said I, and a transaction was completed.The day,as they say,was not a complete dead loss.

I took my acquisition home and checked it out in the reference books.The box clearly described the gun as a Model 805. But research into the Hy-Score range showed the Model 805 to be a little break-barrel rifle. A bit of a puzzle for undeniably,my new pistol,a.177 calibre,single-shot Hy-Score,with a snub-barrel which is permanently pinned,was sold as the firm's "Model 805 Pocket pistol."Introduced in the year 1952.

Next step was to flick pictures around the air gun pundits of the world. The Model 805 seemed a mystery to all but Larry Hannusch(which isn't surprising). The Model 805 is evidently rare bird-anywhere. Amongst my other Hy-Score pistols it just looks like another Model 803,the dinky wee Sportster that came with three barrels. The difference between a Model 803 and Model 805 is a barrel pin? In days of old such a fact wouldn't be worth mentioning,but now,collectors measure differences in fractions and a tiny difference makes say,two Webley pistols,"the same but different" and the difference is a collecting fact worth recording!

I'm rather glad I went to that country gun show. I may not have hit on a classic ABAS(Birmingham's best air pistol effort for my money)but I did get a Hy-Score pistol that not many of us were aware existed!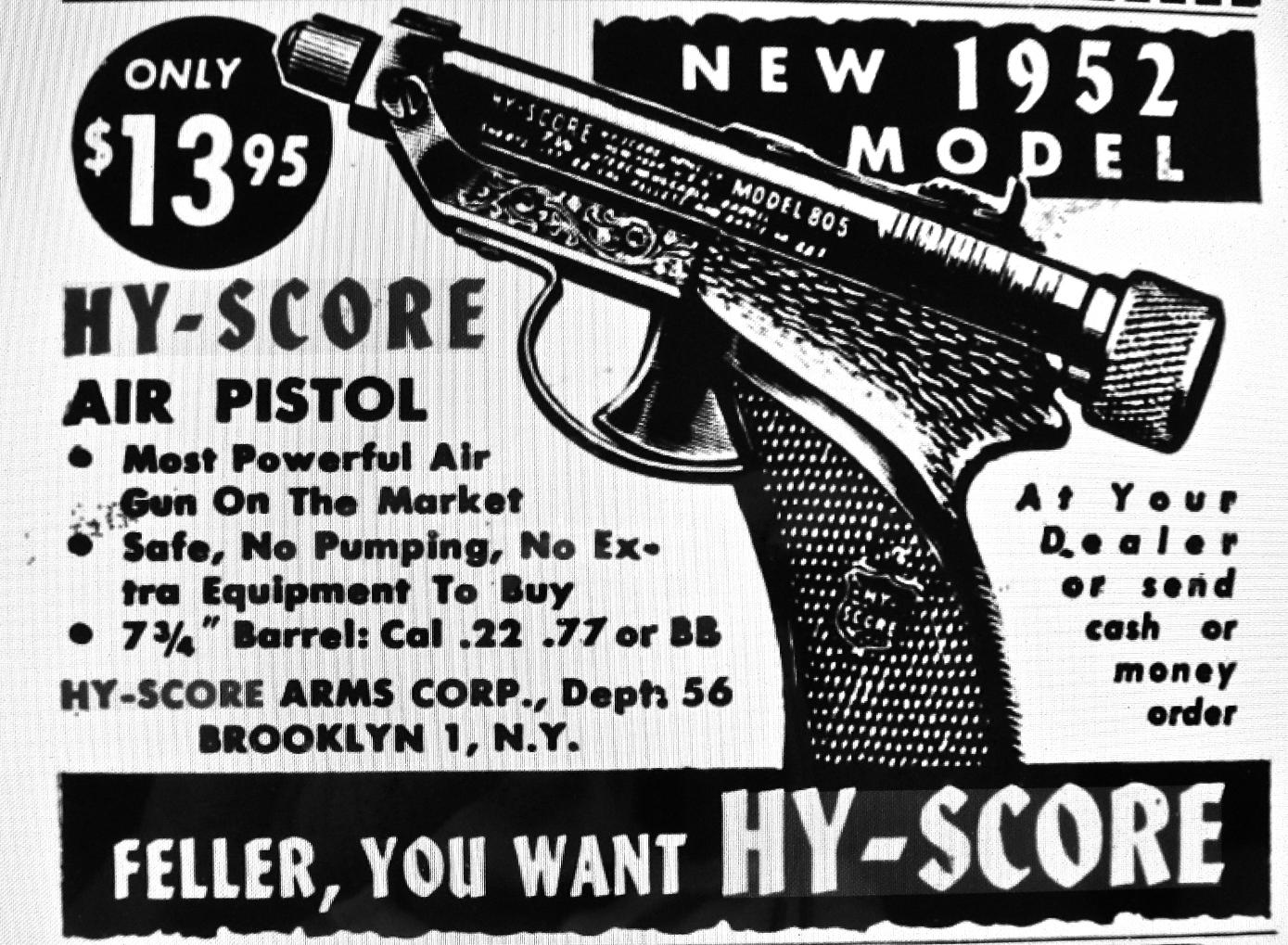 Hy-score Model 805 Air Pistol advertised in POPULAR SCIENCE,Page 72,January,1952 issue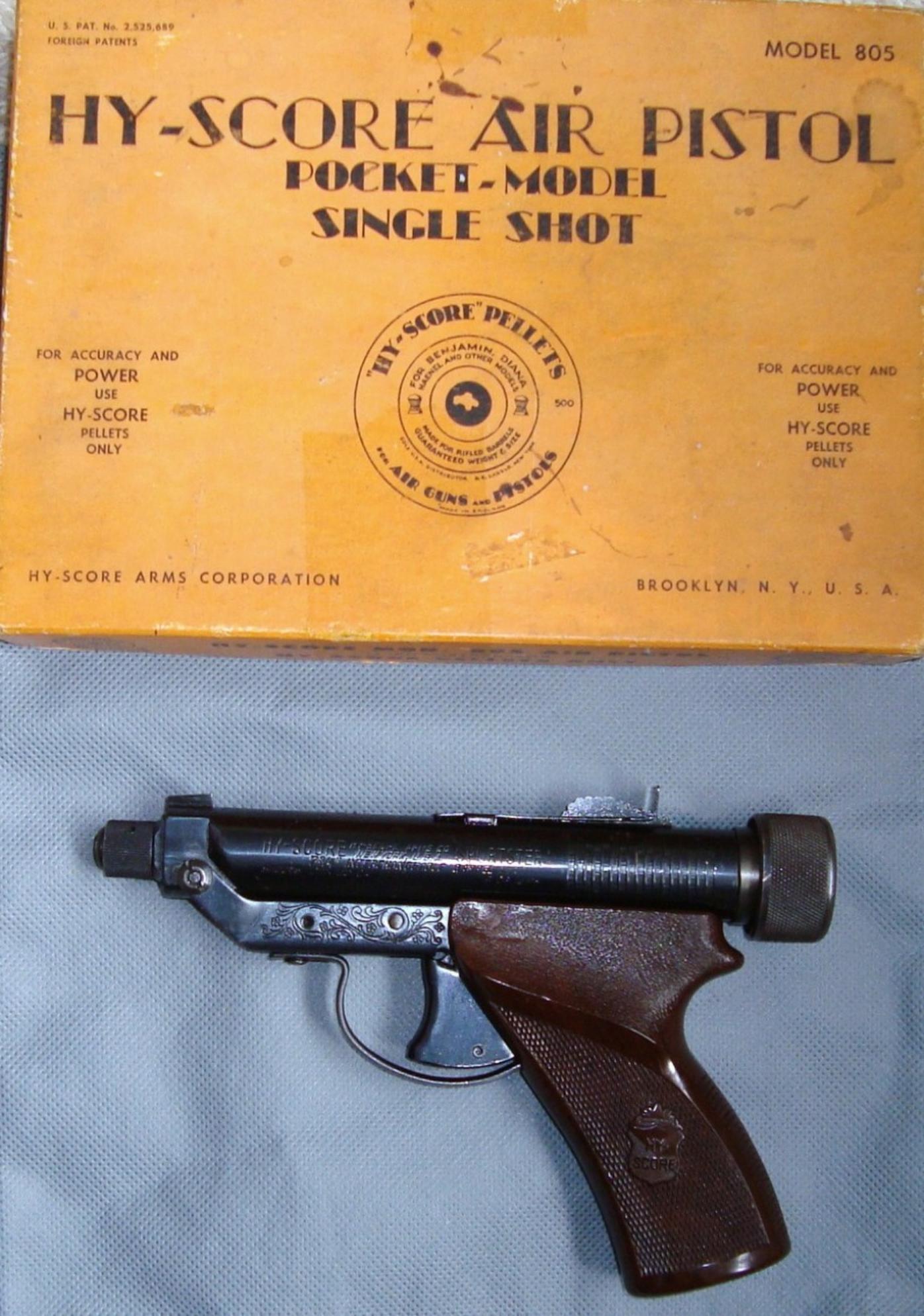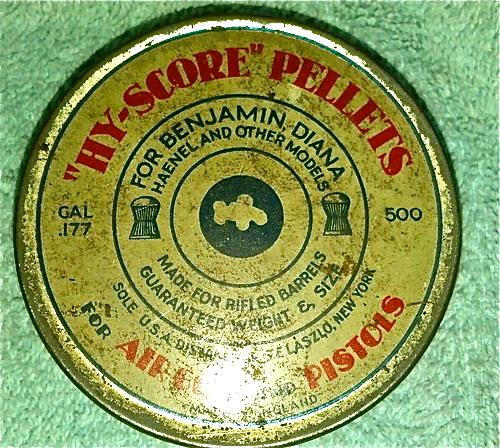 From the 1950s-60s,a 6x scope to go on Hy-score labelled Dianas.