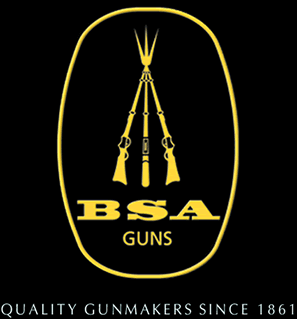 I purchased this Improved Model D from fellow-collector,Nevile Lodge in 1980 for the princely sum of $15NZ .The unusually cut stock rather diminished the rifle's value.It was a skillfully done "customisation" but it's purpose eluded both Nevile and myself.He had bought two such BSA's at Tisdalls Ltd(Wgtn)and was happy to let one join my airgun collection.It was my first pre-Great War BSA! We assumed the stocks of these IMD rifles had been redesigned by Mr William Hazard,Gunmaker,of Auckland,NZ.
In 1981,Myron Kasok(NH,USA) visited me and I traded him this rifle for a Crosman Model 600 CO2 pistol.
After Myron's passing the rifle appeared in a 2003 Rock Island Auction catalogue - as part of Myron's enormous airgun collection. The above photo is from that catalogue.
A Light Pattern BSA IMD Circa 1906


BSA "Standard" Air Rifle-made to Lincoln Jefferies specifications.1928.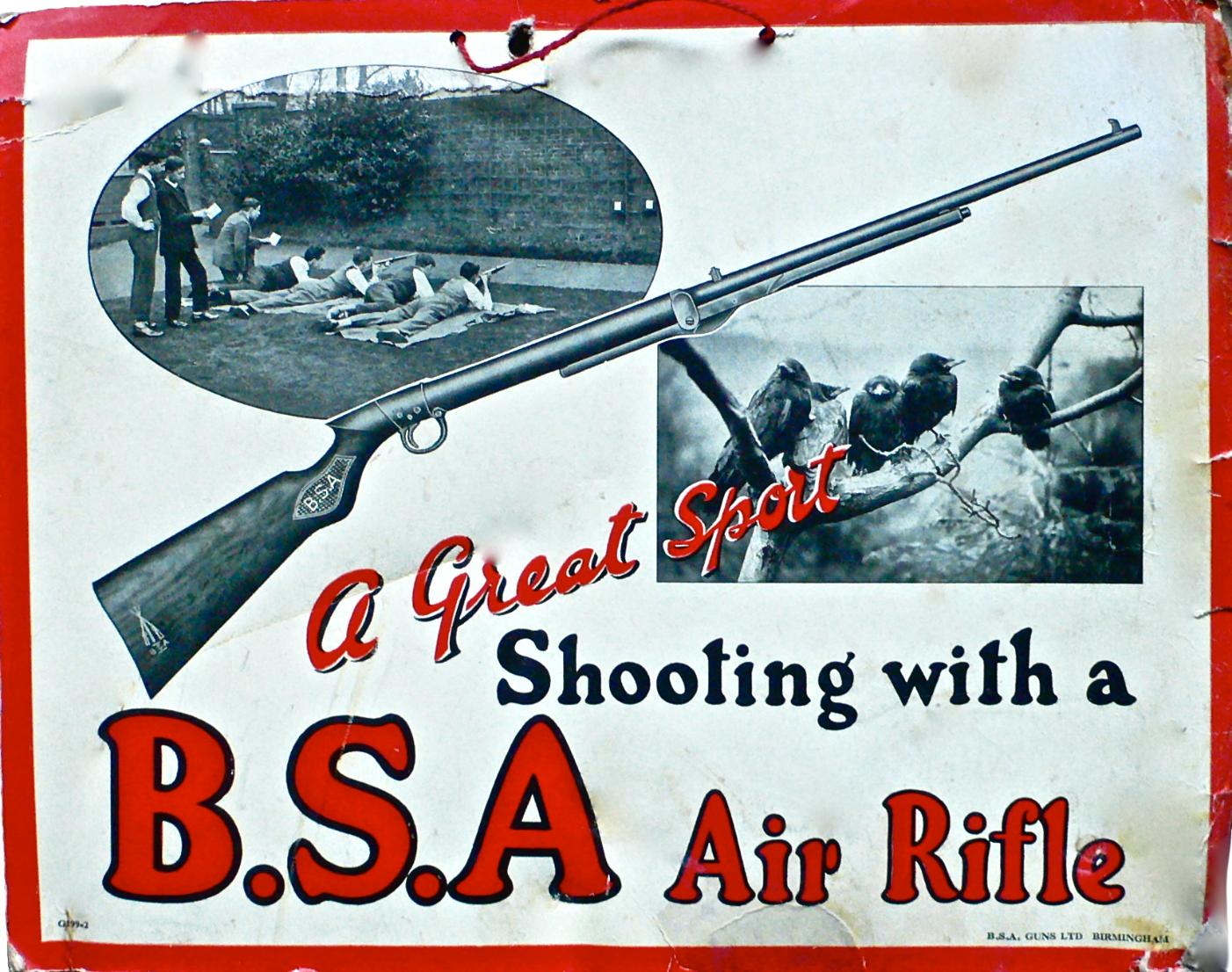 Vintage BSA Advert courtesy Trevor Morris.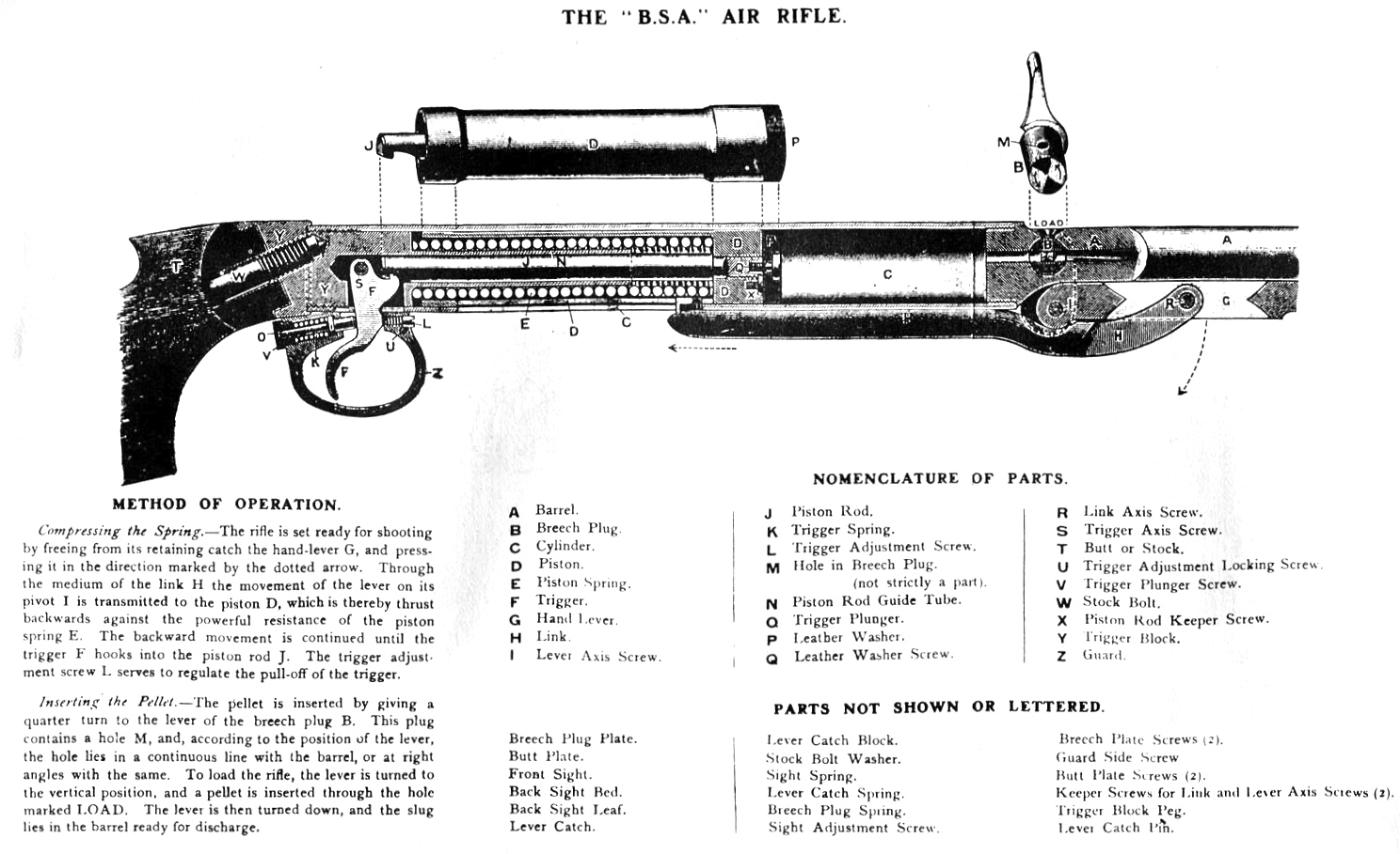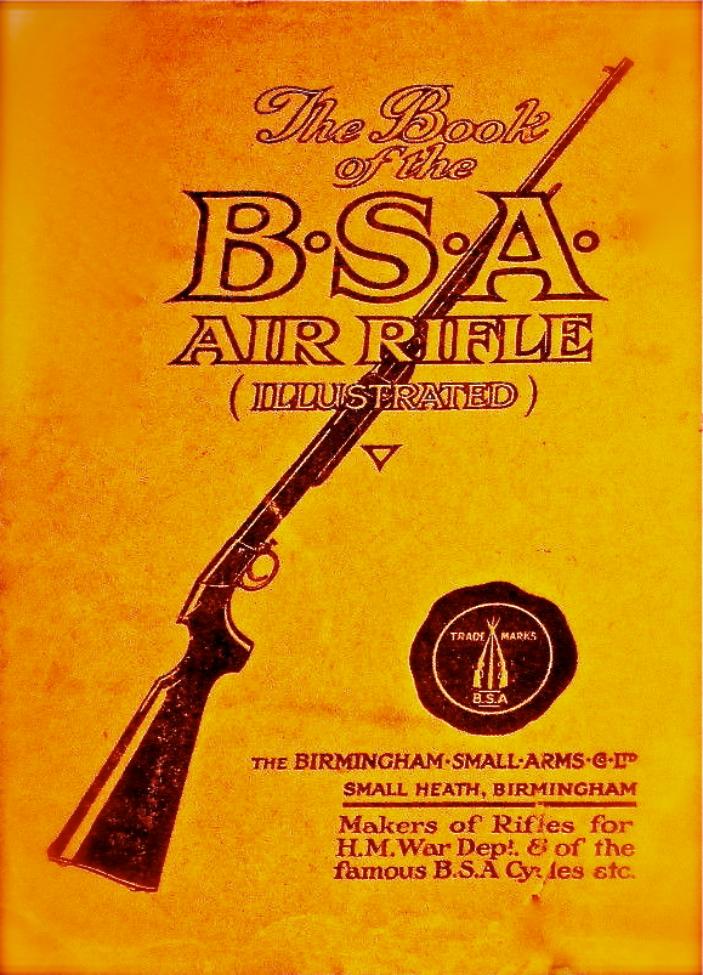 BSA break-barrel air rifle. 1933-39 Bought at Ted Rogers 2017 Auction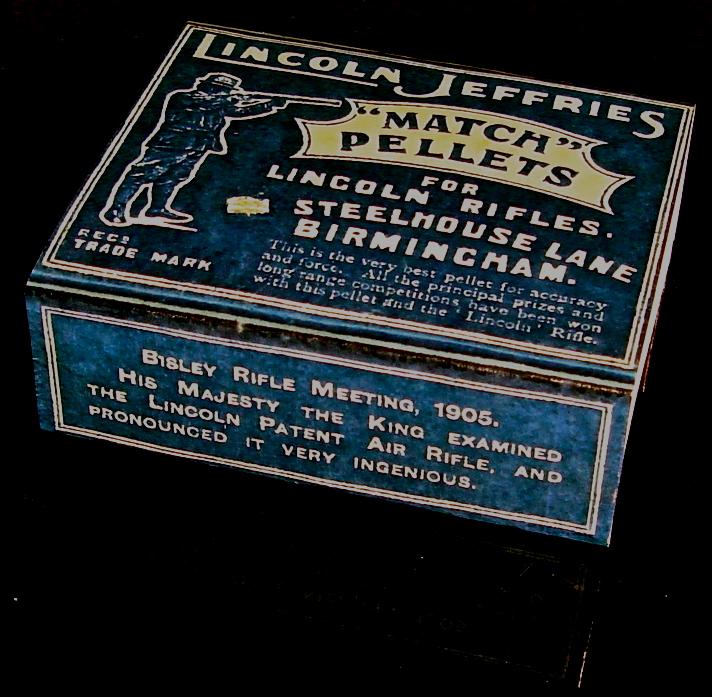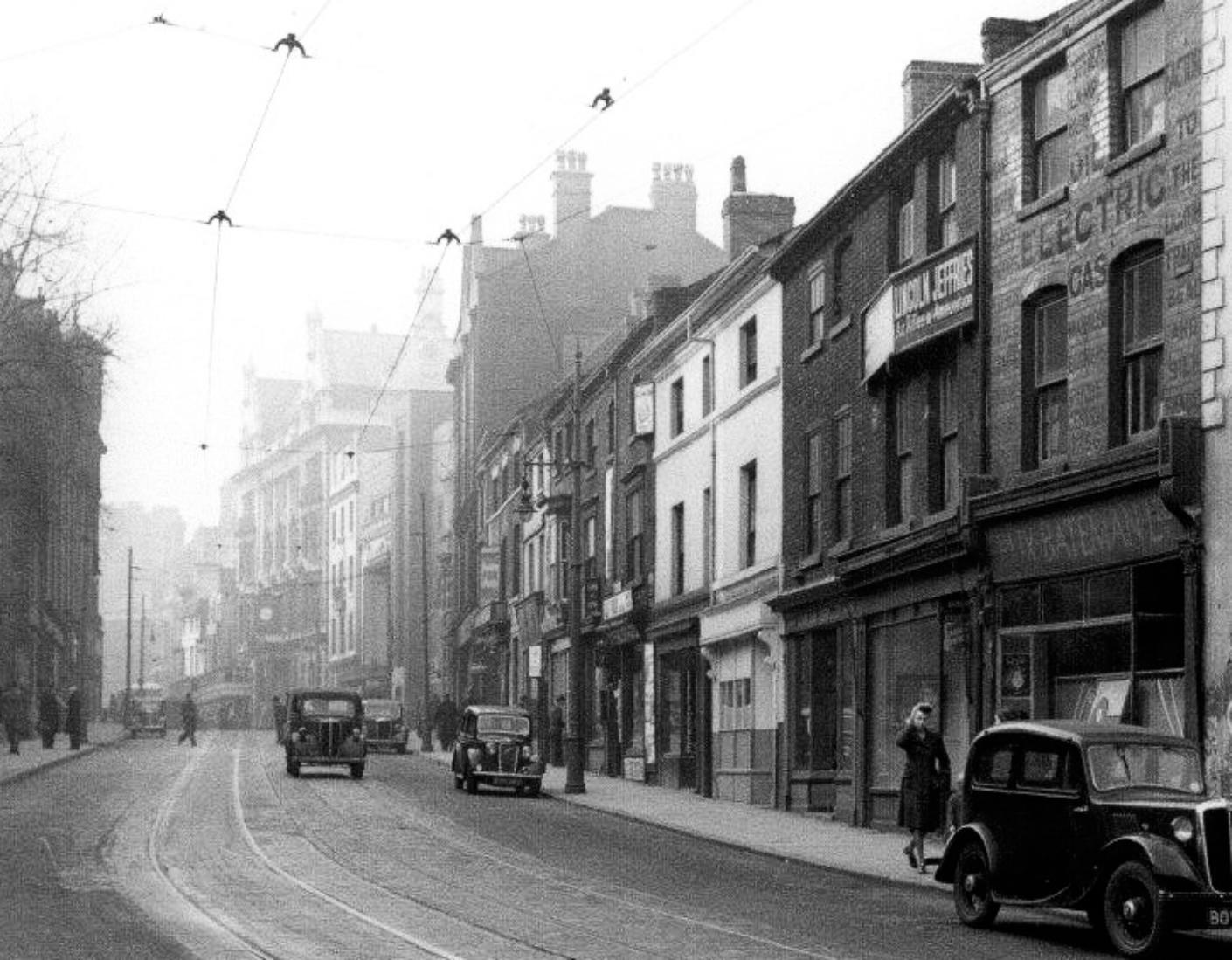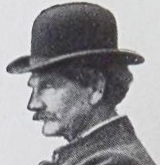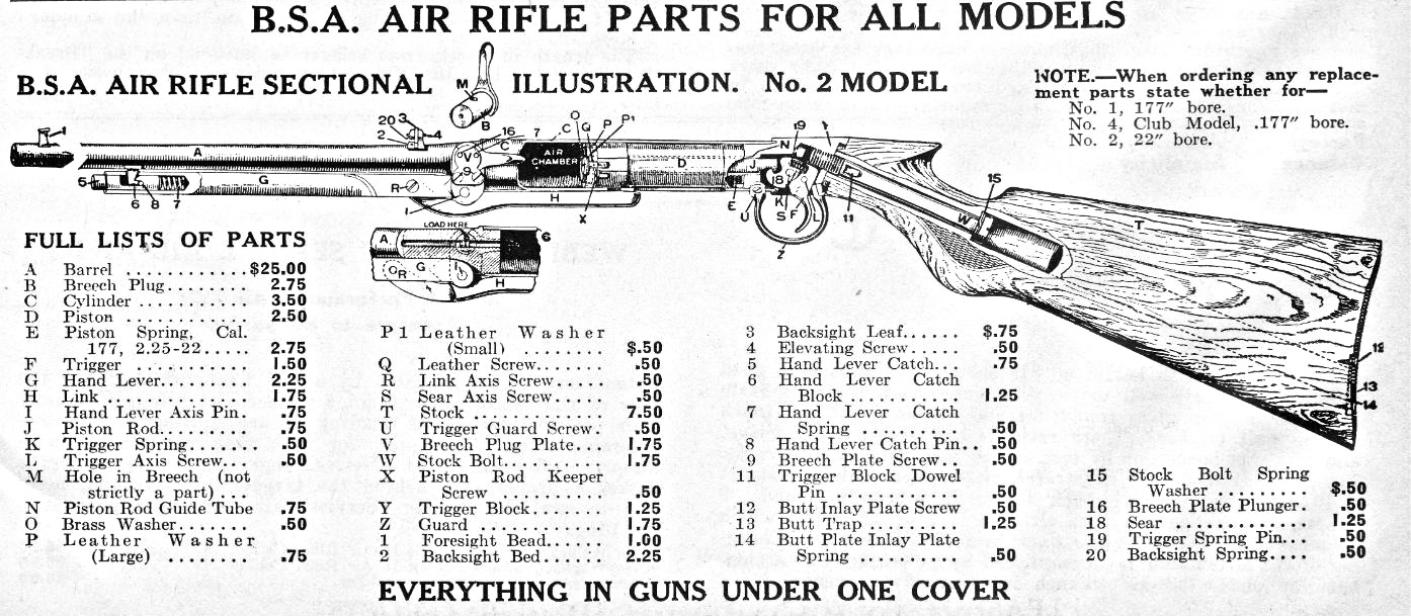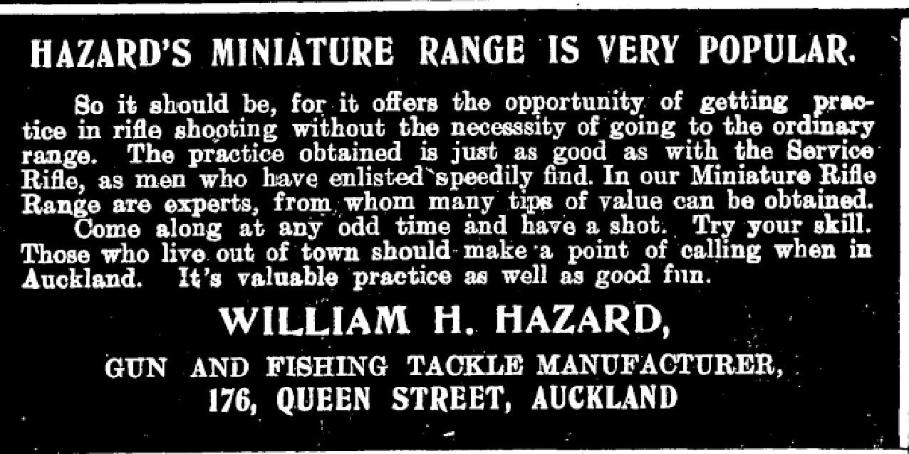 W H Hazard was a well-known and respected Auckland gunsmith in the latter years of the 19th century.I've managed to collect some interesting bits and pieces about him on the internet. His obituary of 20/11/1899 gives some idea of the rich and varied life he lived.
Mr Hazard's demise predates Lincoln Jefferies thoughts on repairing to NZ by twelve years.So it is more likely LJ simply "knew of", rather than "knew personally", Auckland's most famous gunsmith.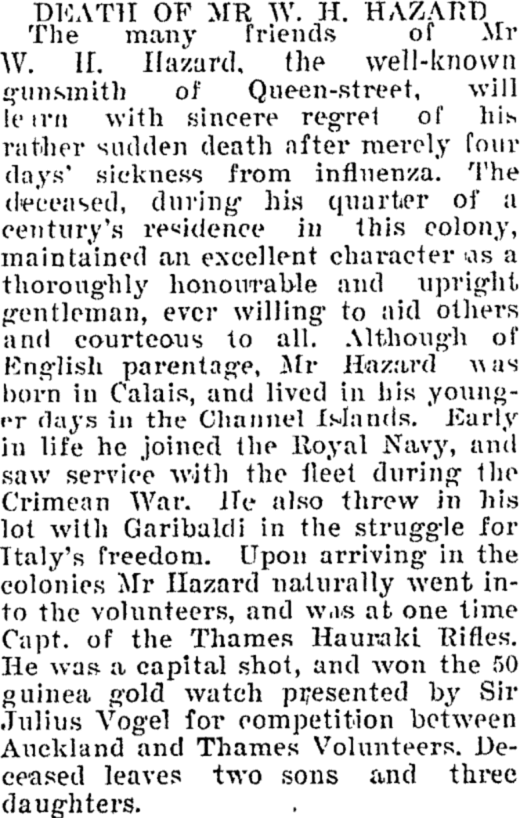 Mr Hazard had a retail premises in Queen Street(next to A KOHN) and a substantial workshop just west of the main thoroughfare,in Fanshawe St.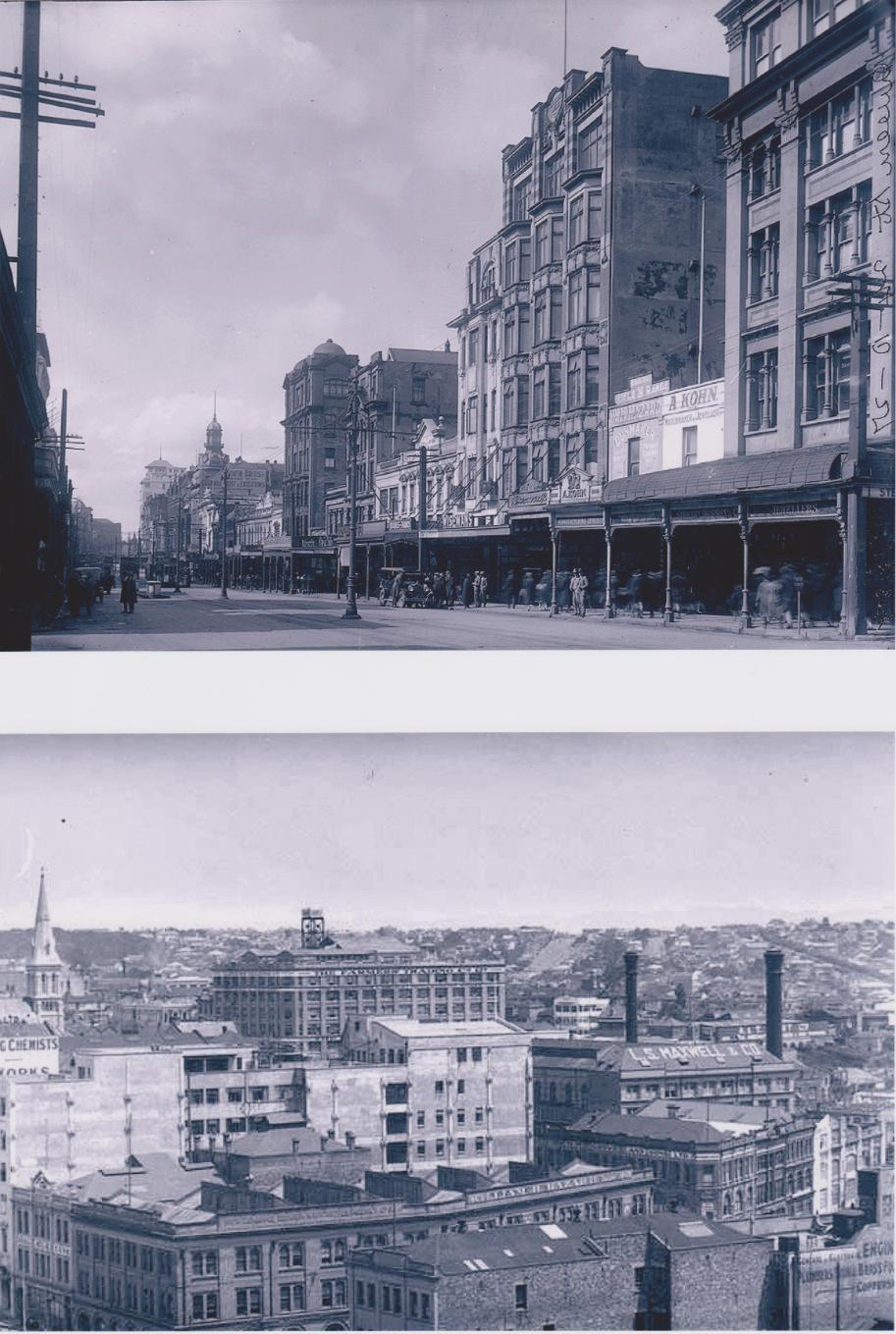 "Into each life some rain must fall"-and this was the case on the 28th of June 1894 at the Hazard premises. (On this occasion it was "Golden Rain",some fireworks expert quipped.... )
"Paper Past" notes Mr Hazard had the odd problem with the law and the mail system,supplying customers with their needs!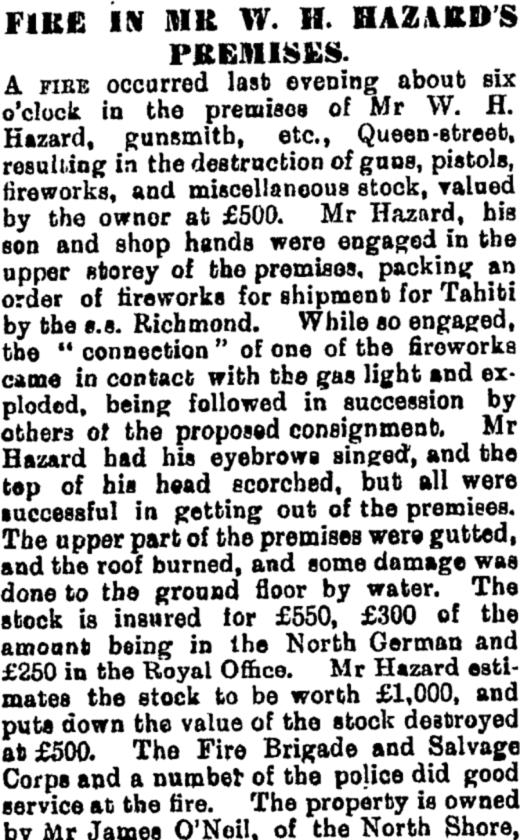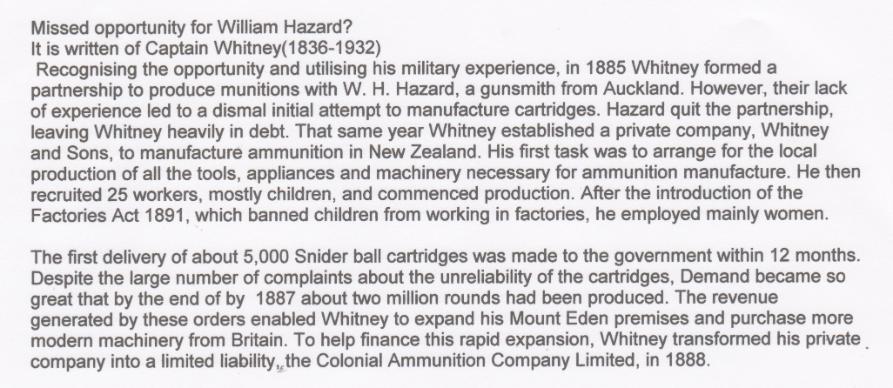 AS Captain Bertorelli would have said,"Whadda mistaka to maka!"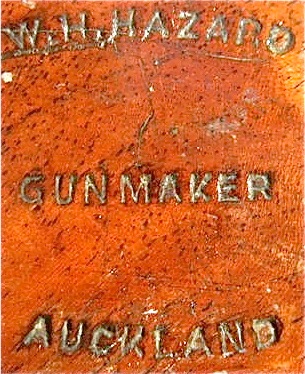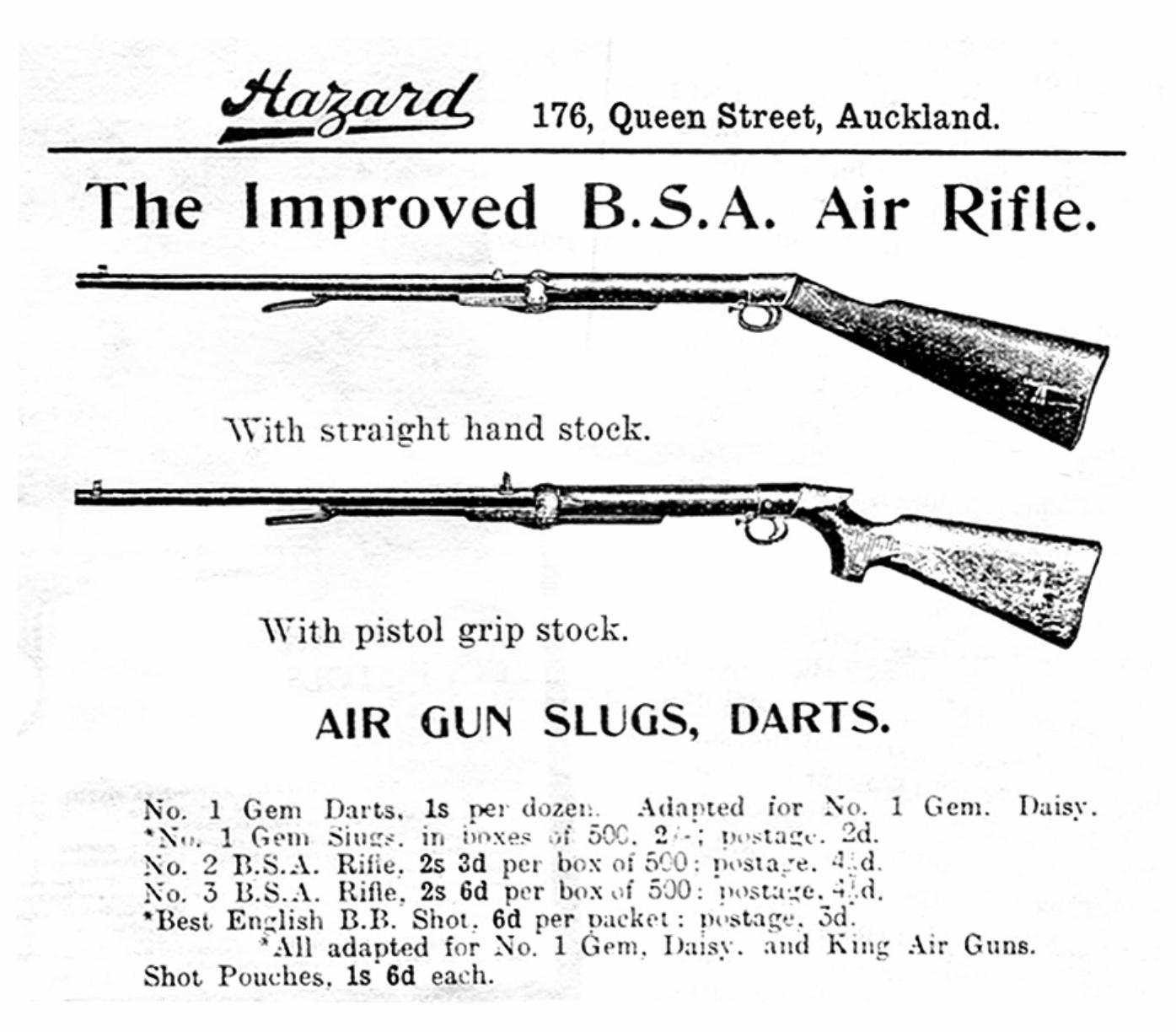 In the early 20th Century,Hazard's became the New Zealand distributors of BSA air rifles.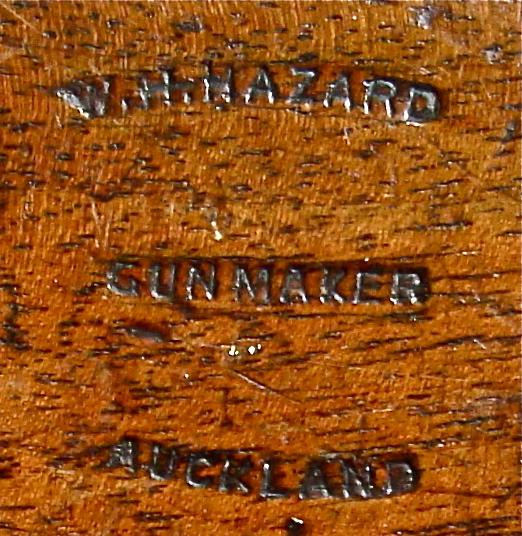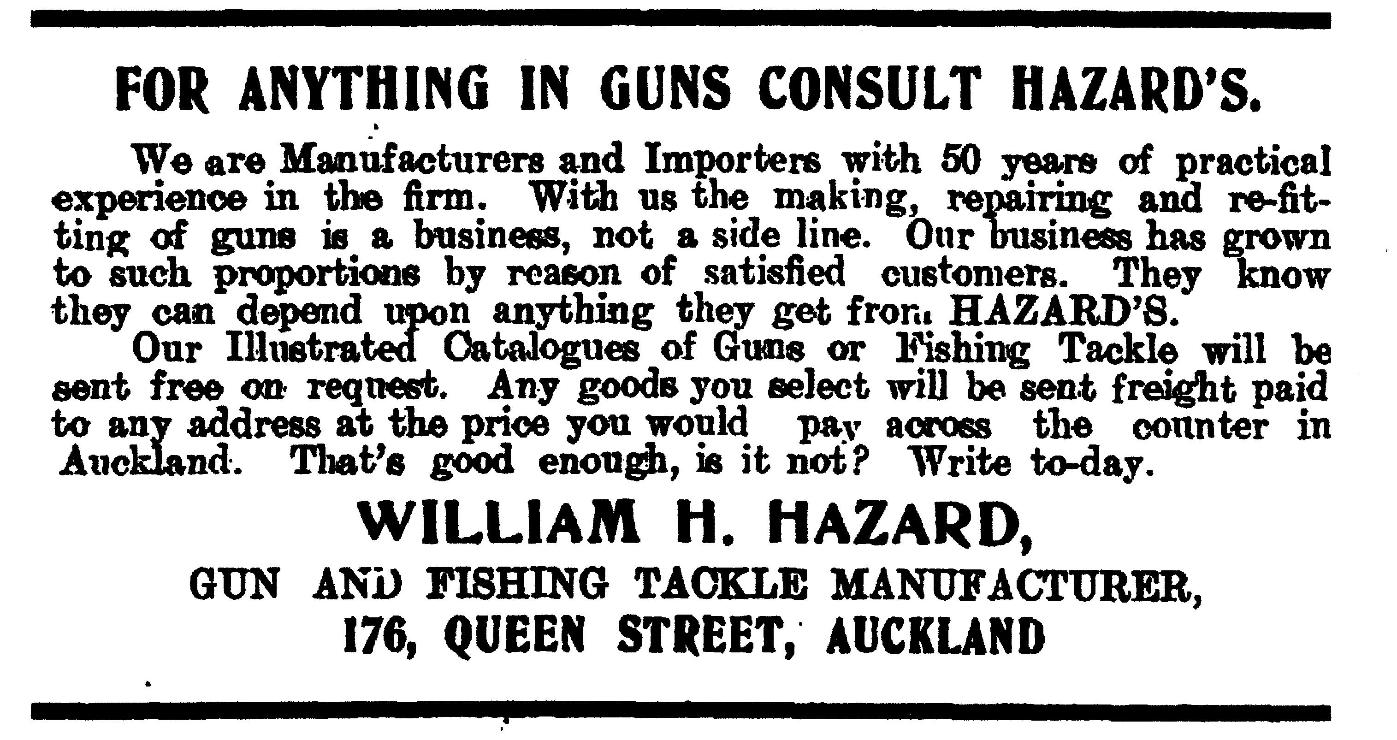 B. S. A. AIR RIFLE Manufactured by Birmingham Small Arms Co. ... Sole U. S. Representatives, Production Equipment Co., Inc. 5 Union Square New York,USA (1921)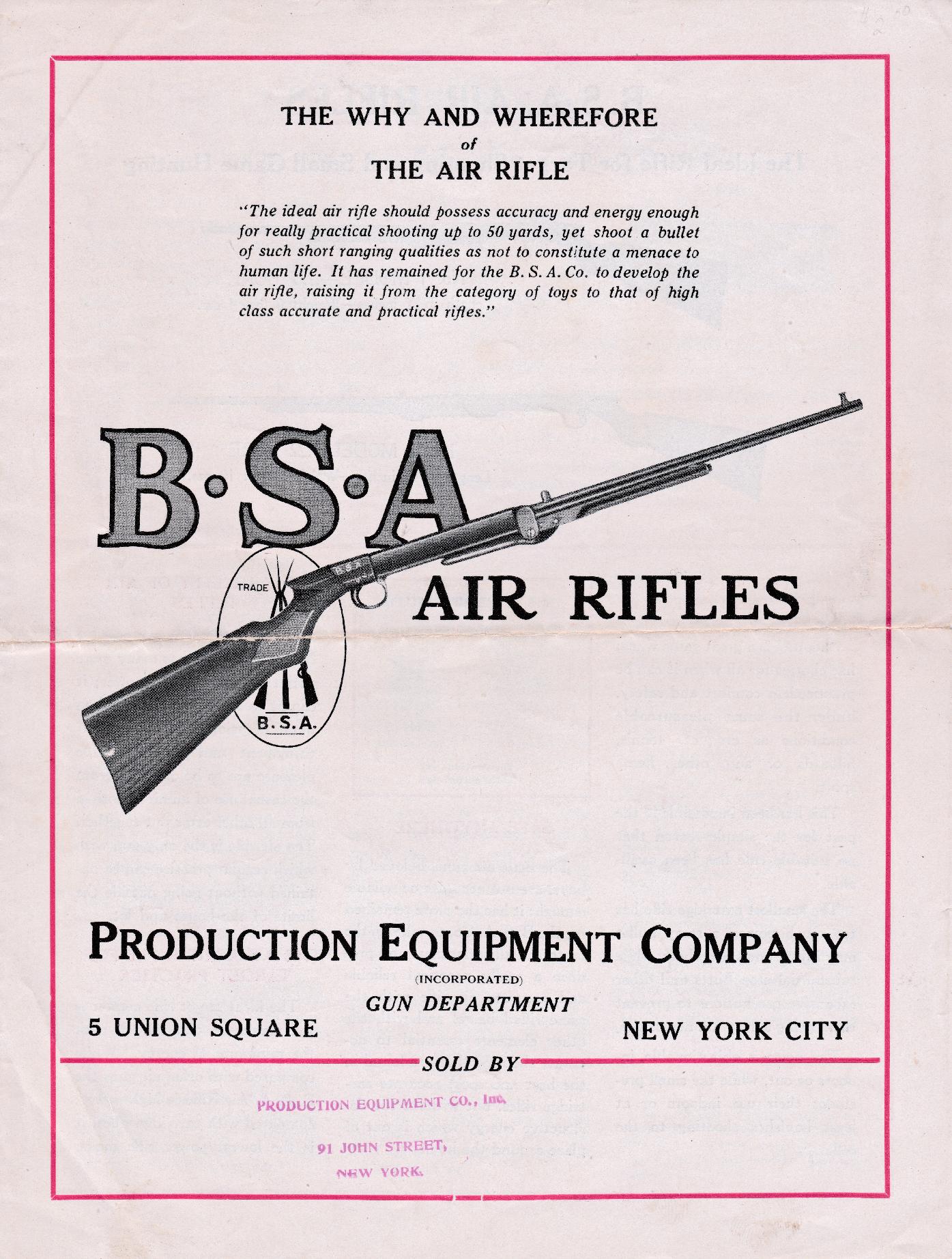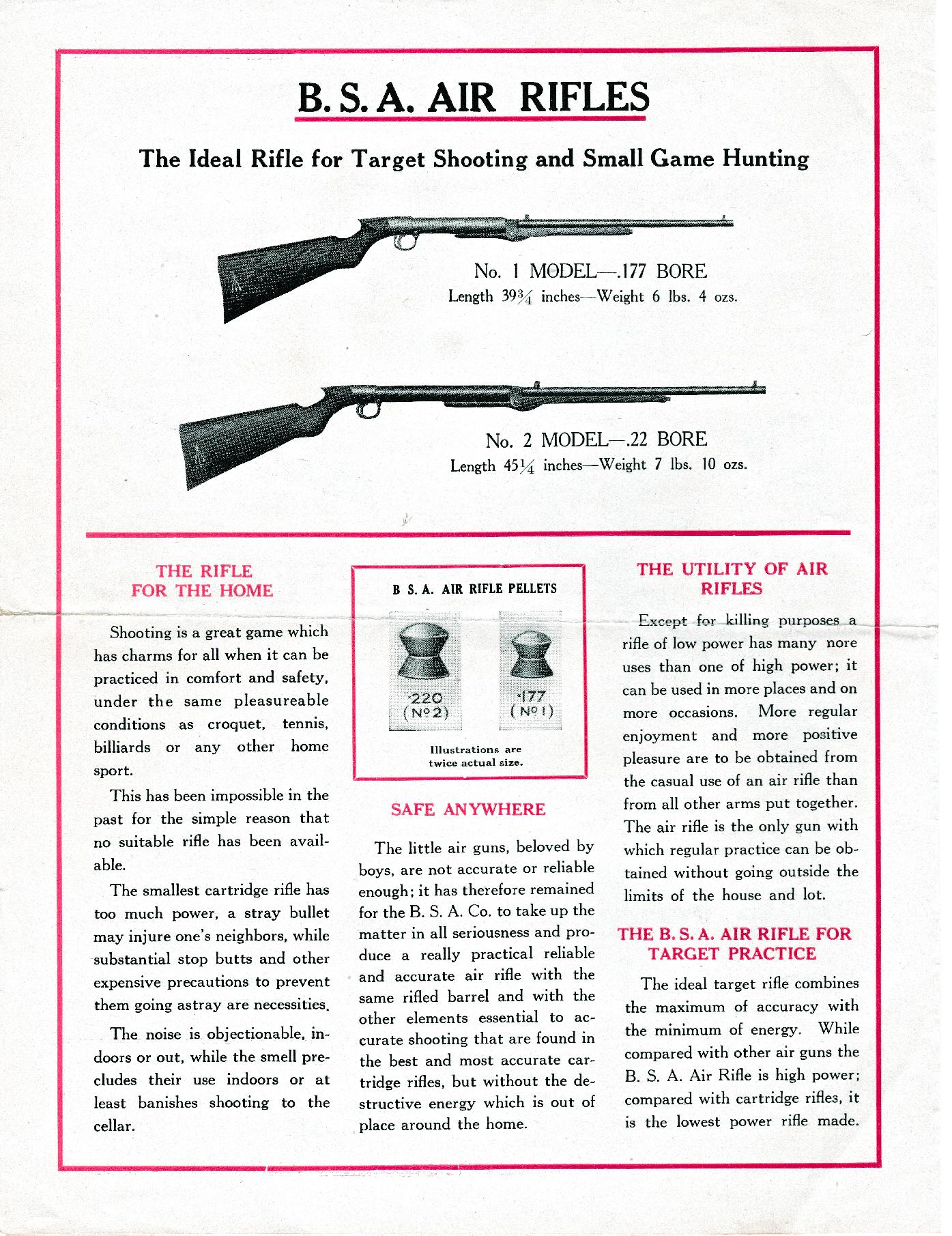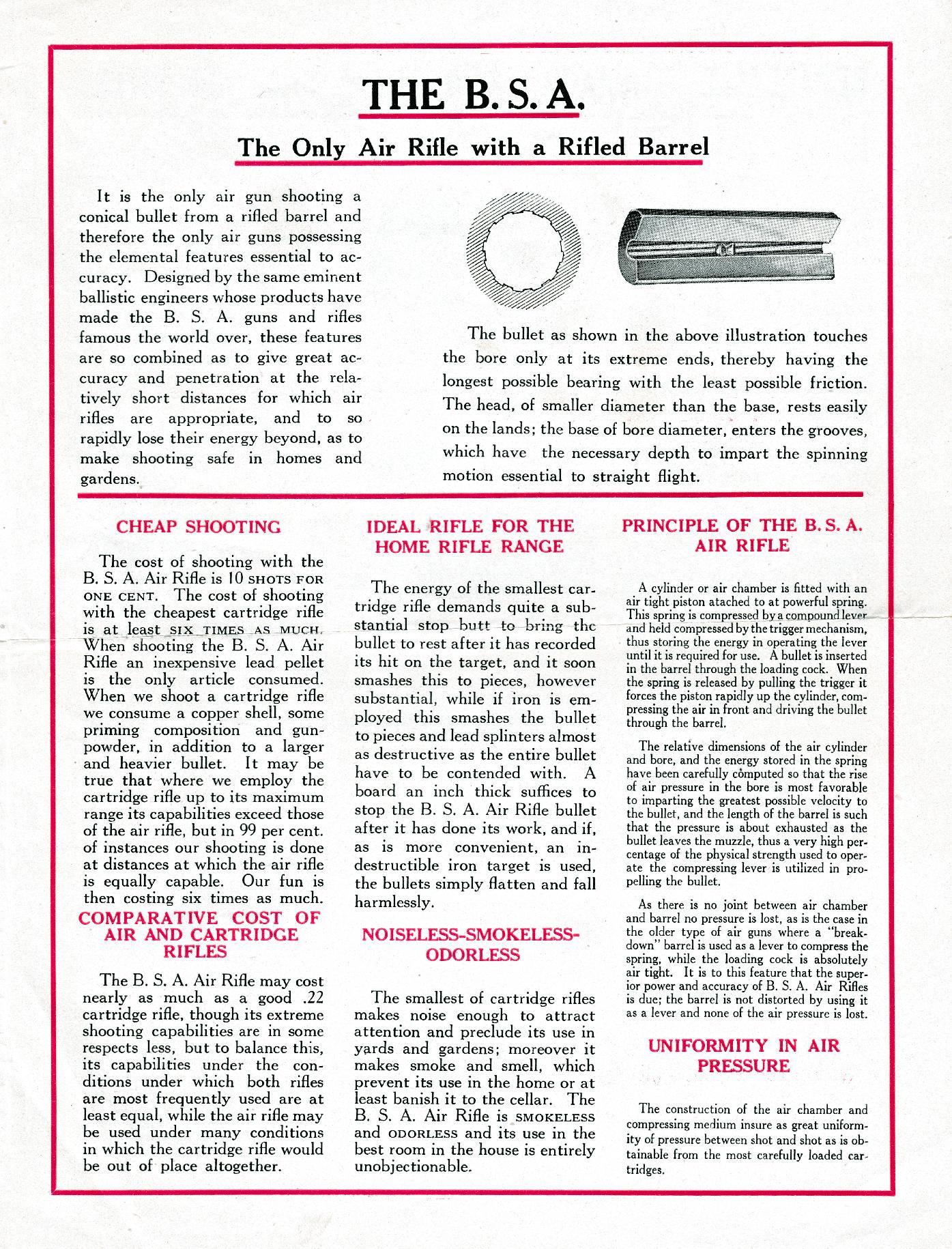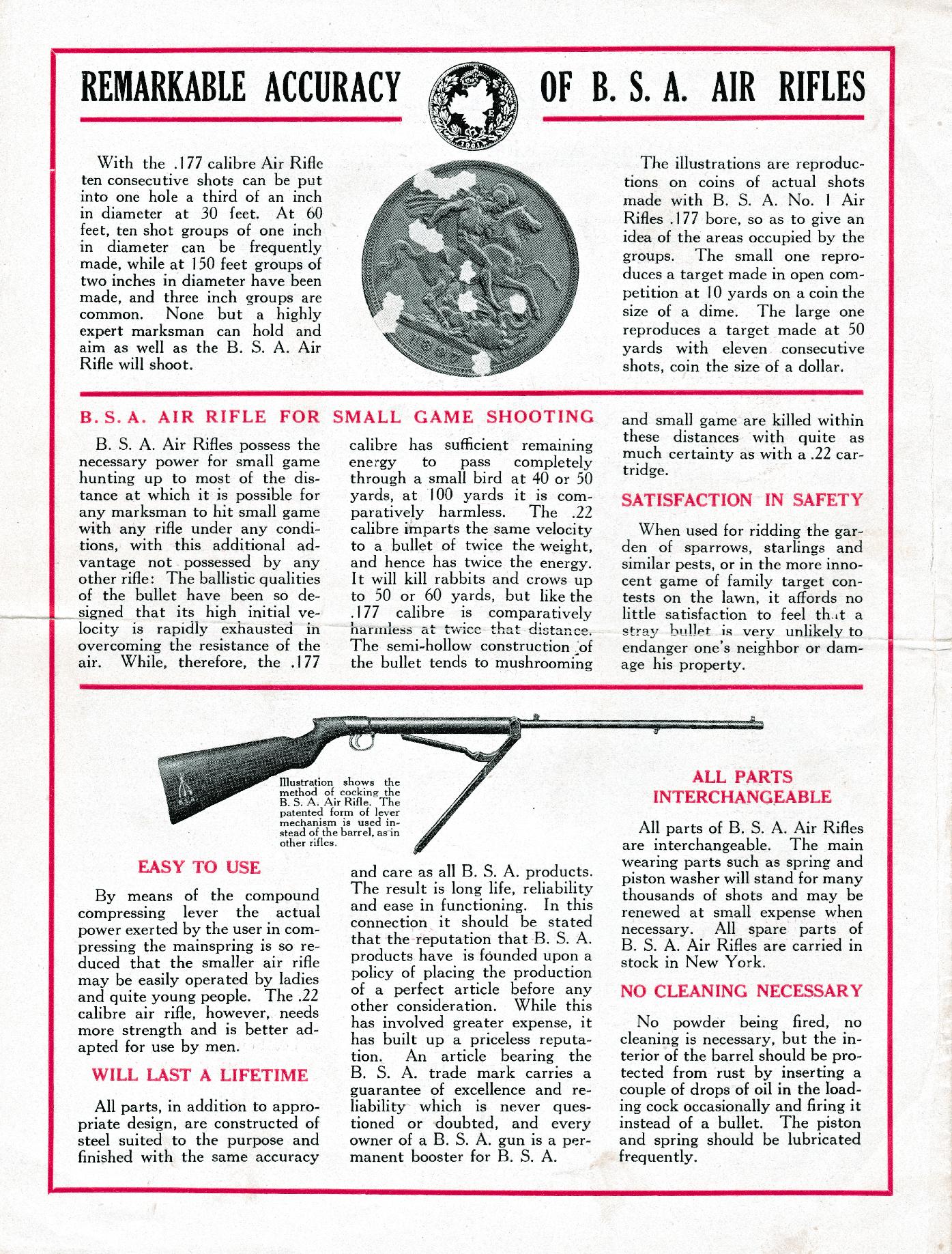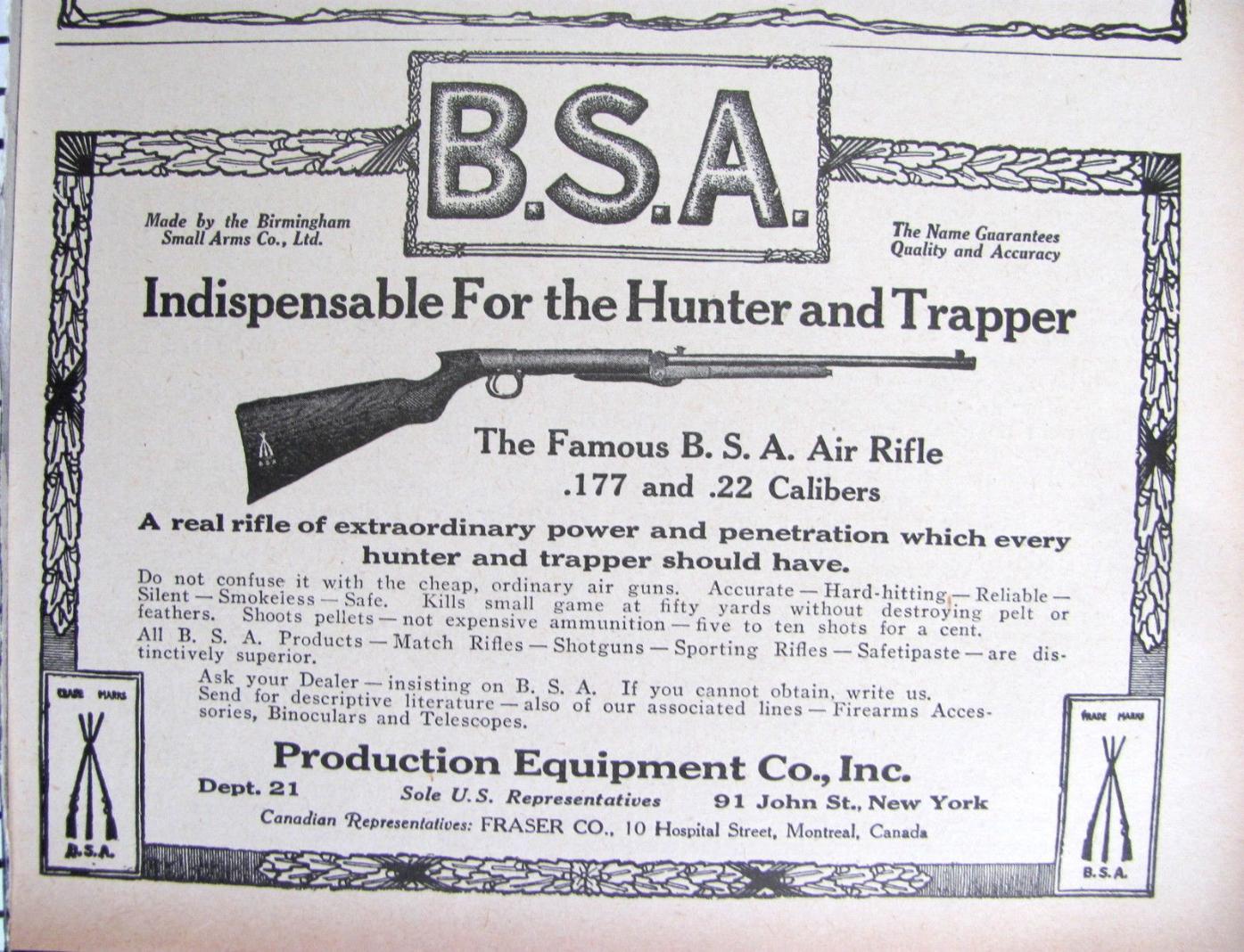 Early 20th Century BSA No. 8 five hole aperture sight. Cut from a captured rifle?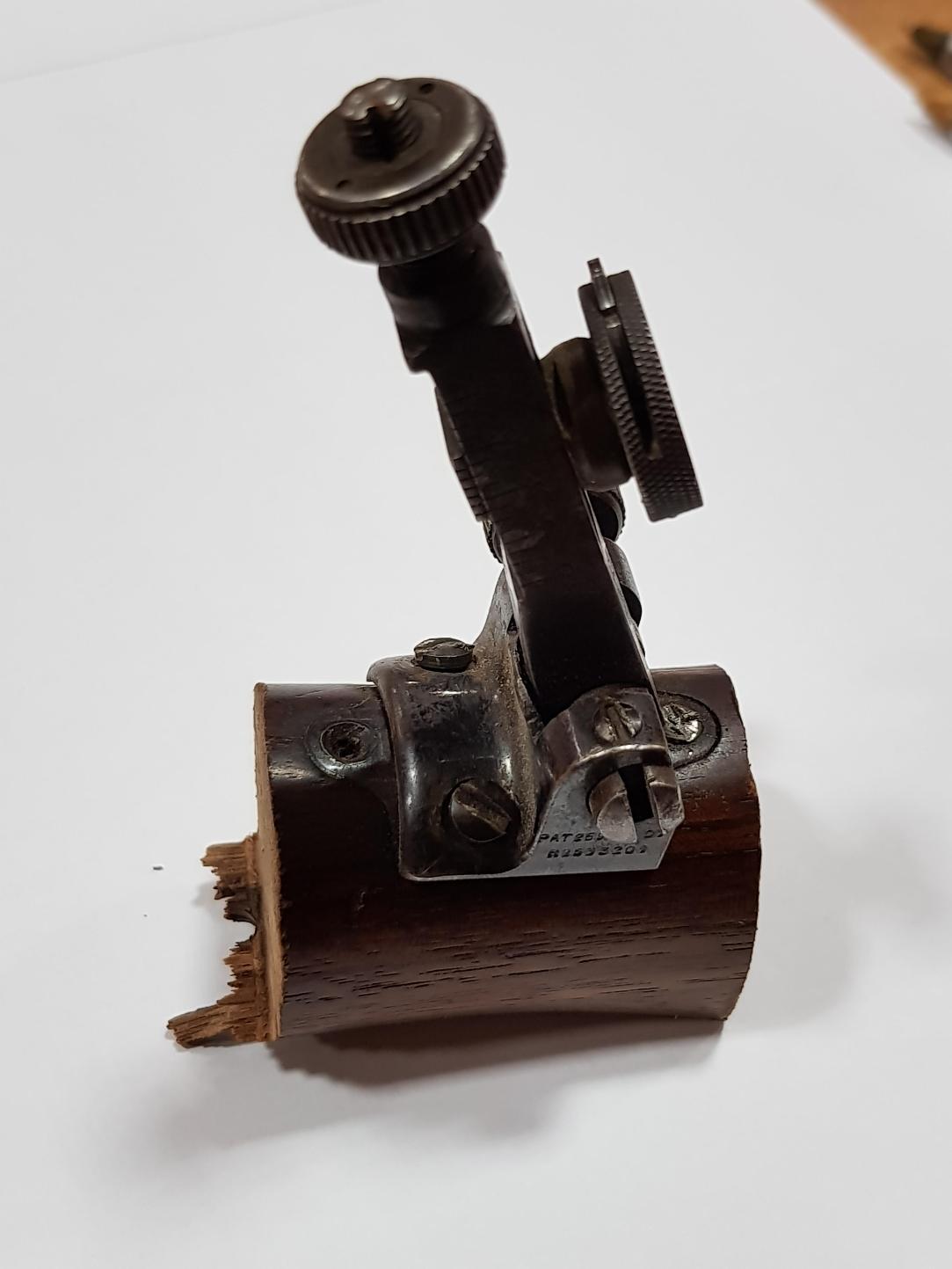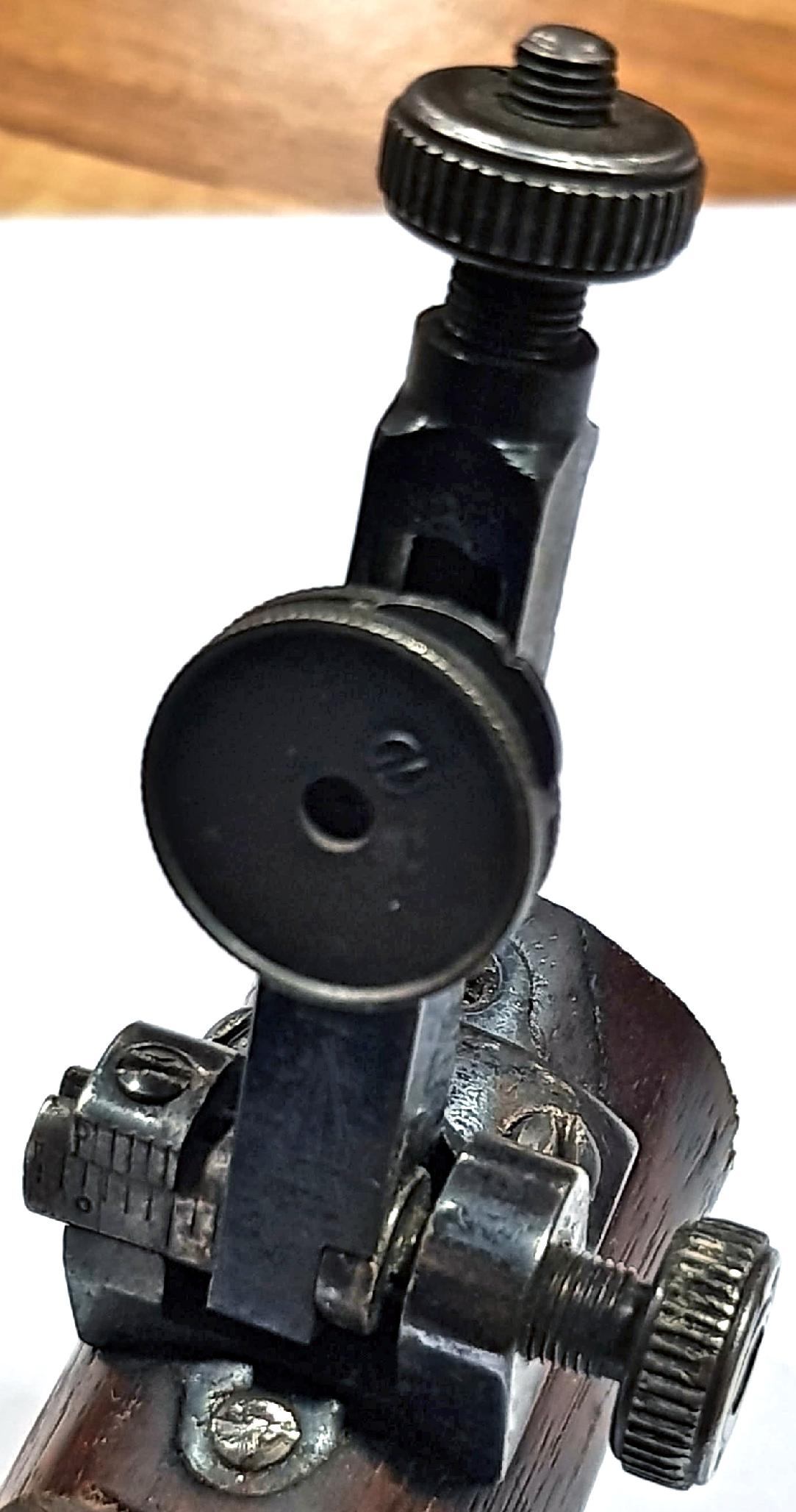 Break-barrel BSA .177 Air Rifle.Made from 1933-39. Weight 5lbs 7oz, length 41.5 inches.Purchased at Ted Rogers Auction,Nov.2017.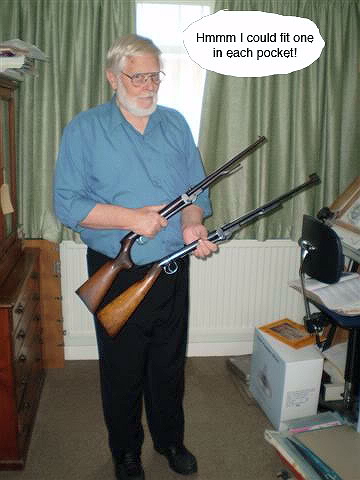 Closed circuit TV catches miscreant attempting to "gunnap" two of Mr Atkins's babies!! (Photo J.Adams,Comment T Morris!)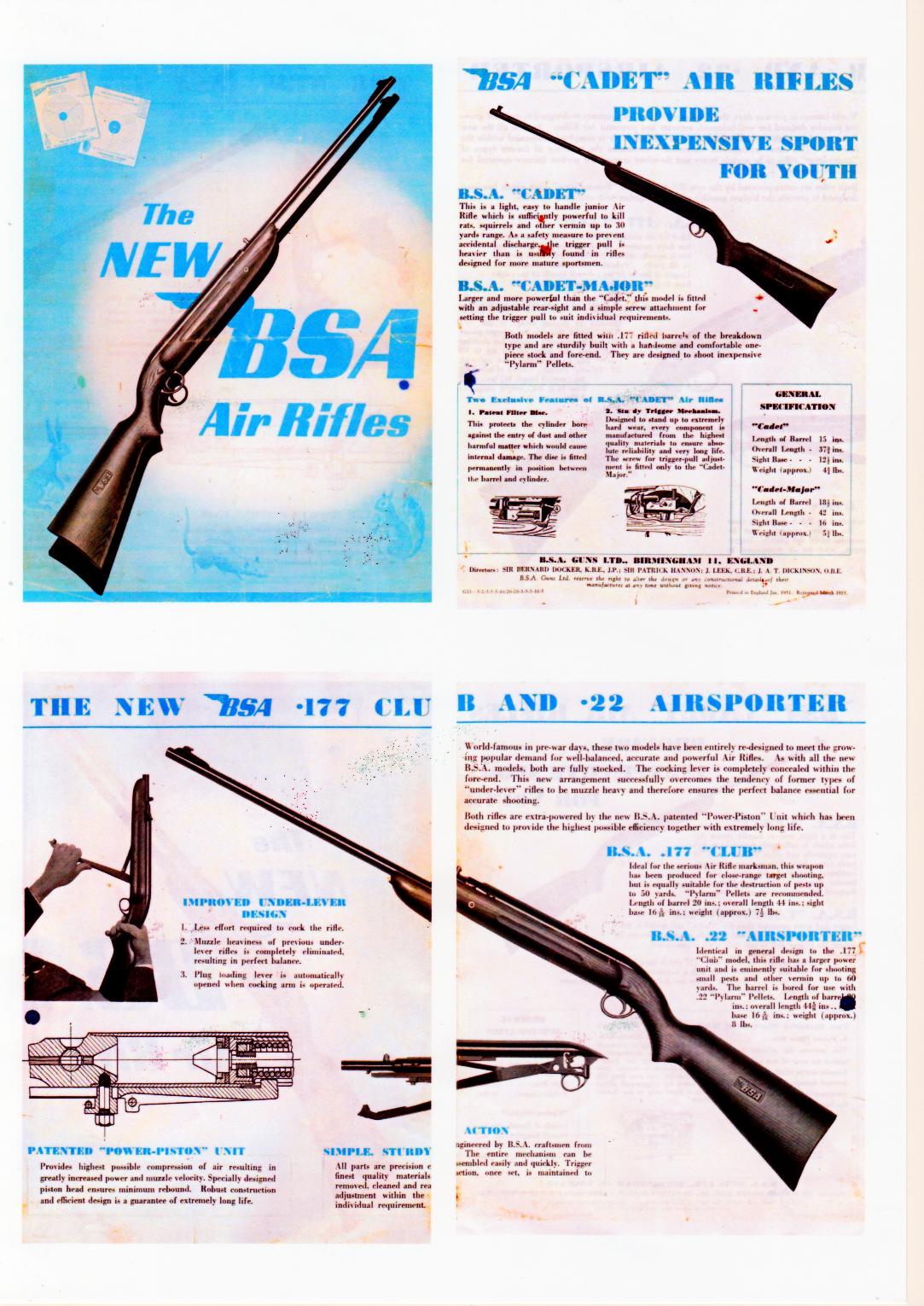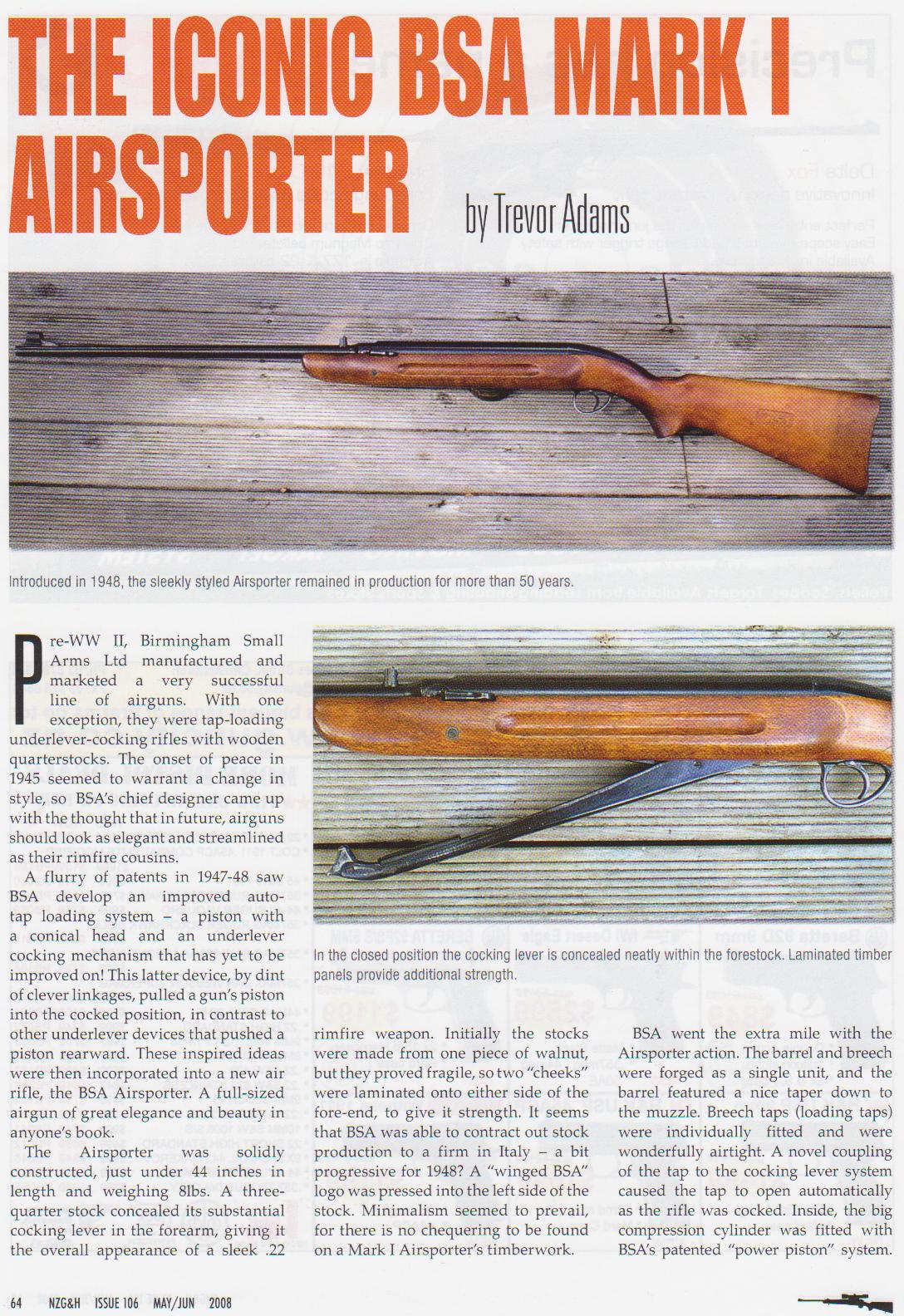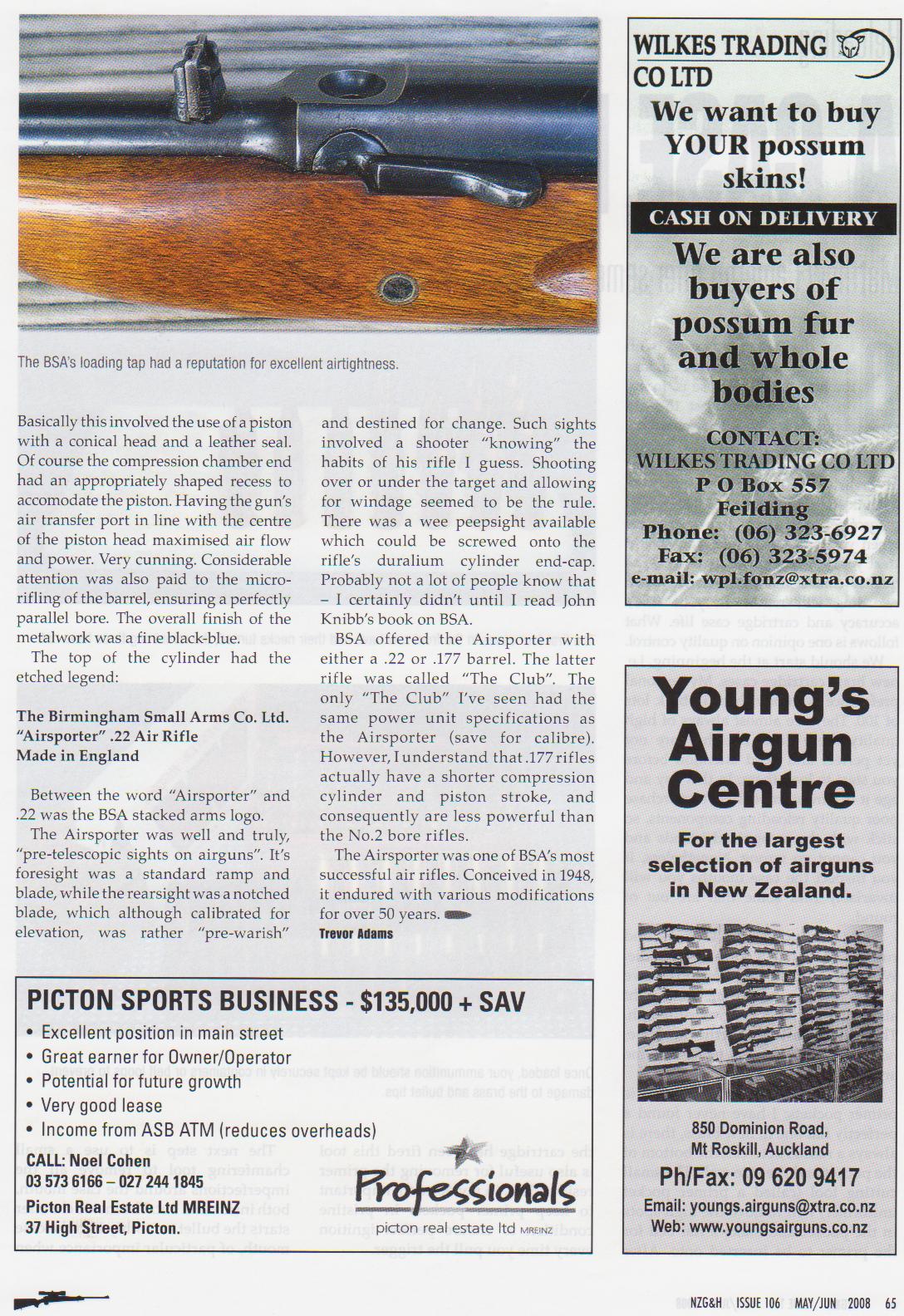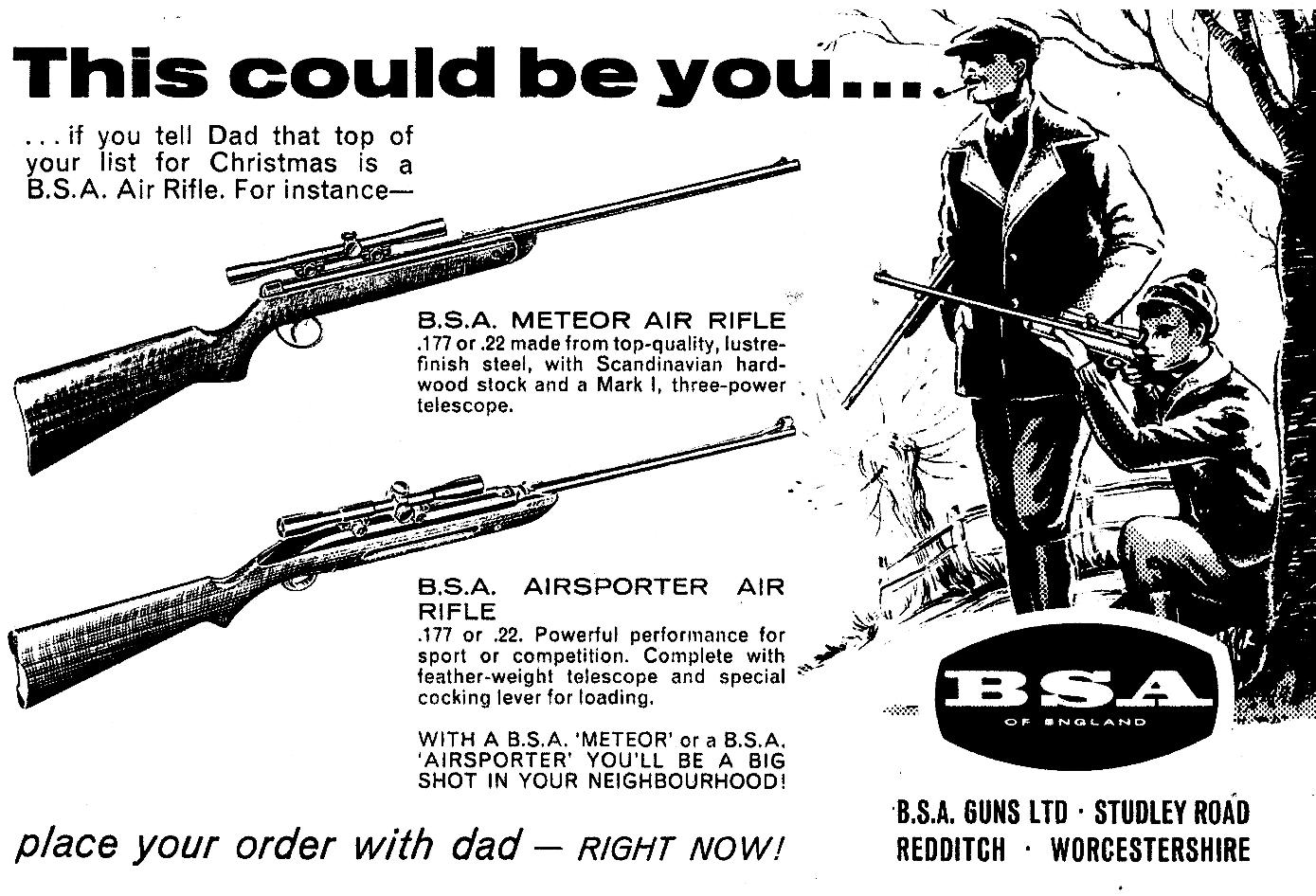 The BSA Airsporter MkII .Circa 1965. One of the nicest air rifles ever designed.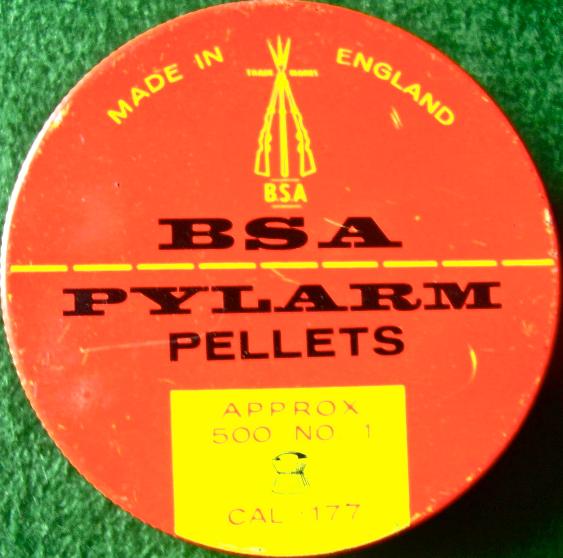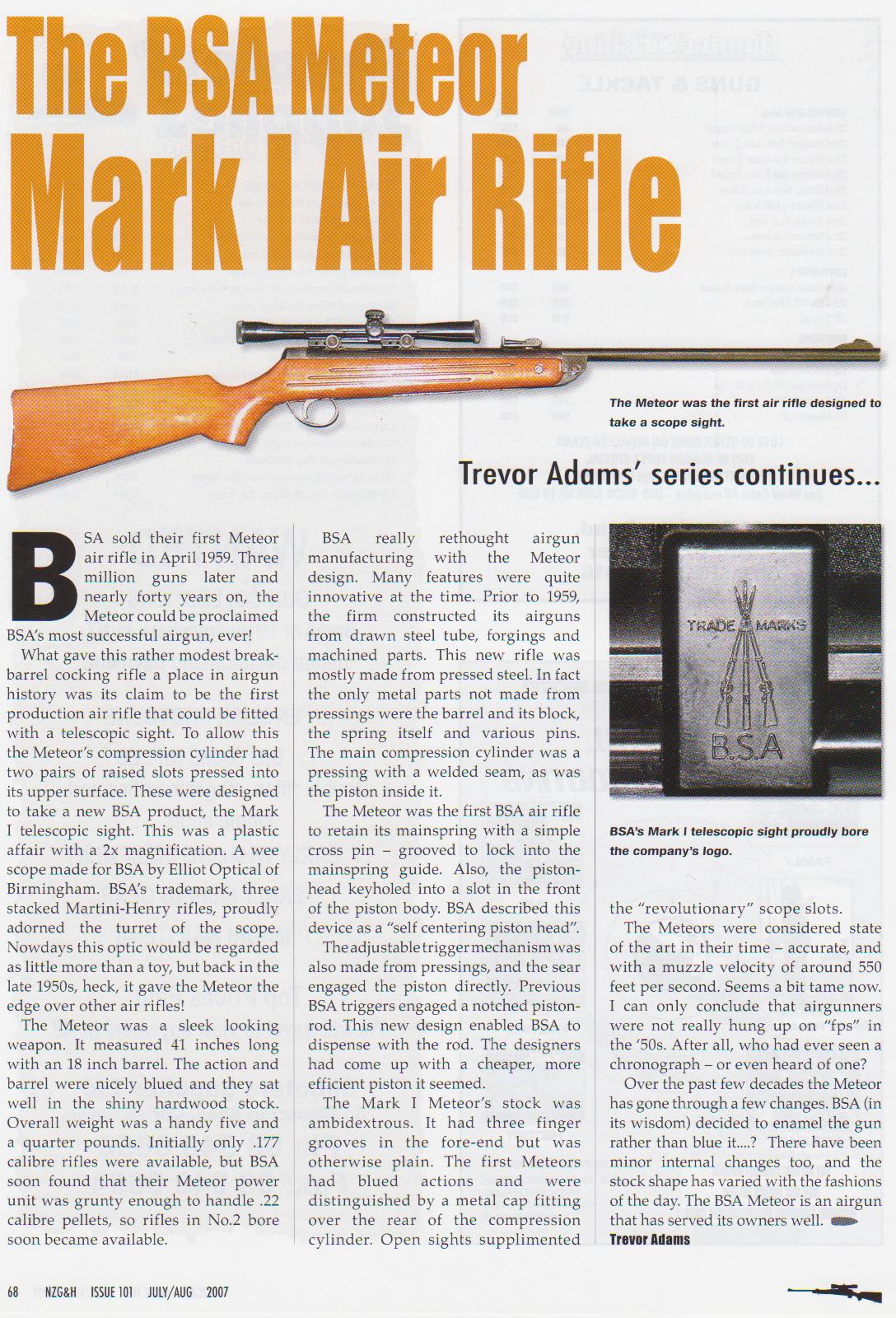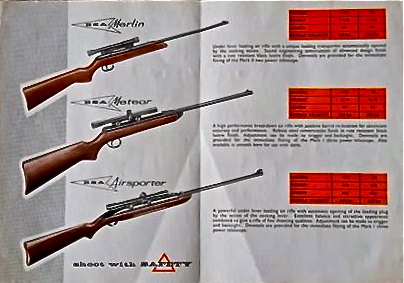 MkI BSA Scorpion Pistol. .22 calibre 1975-85 Serial # RA3963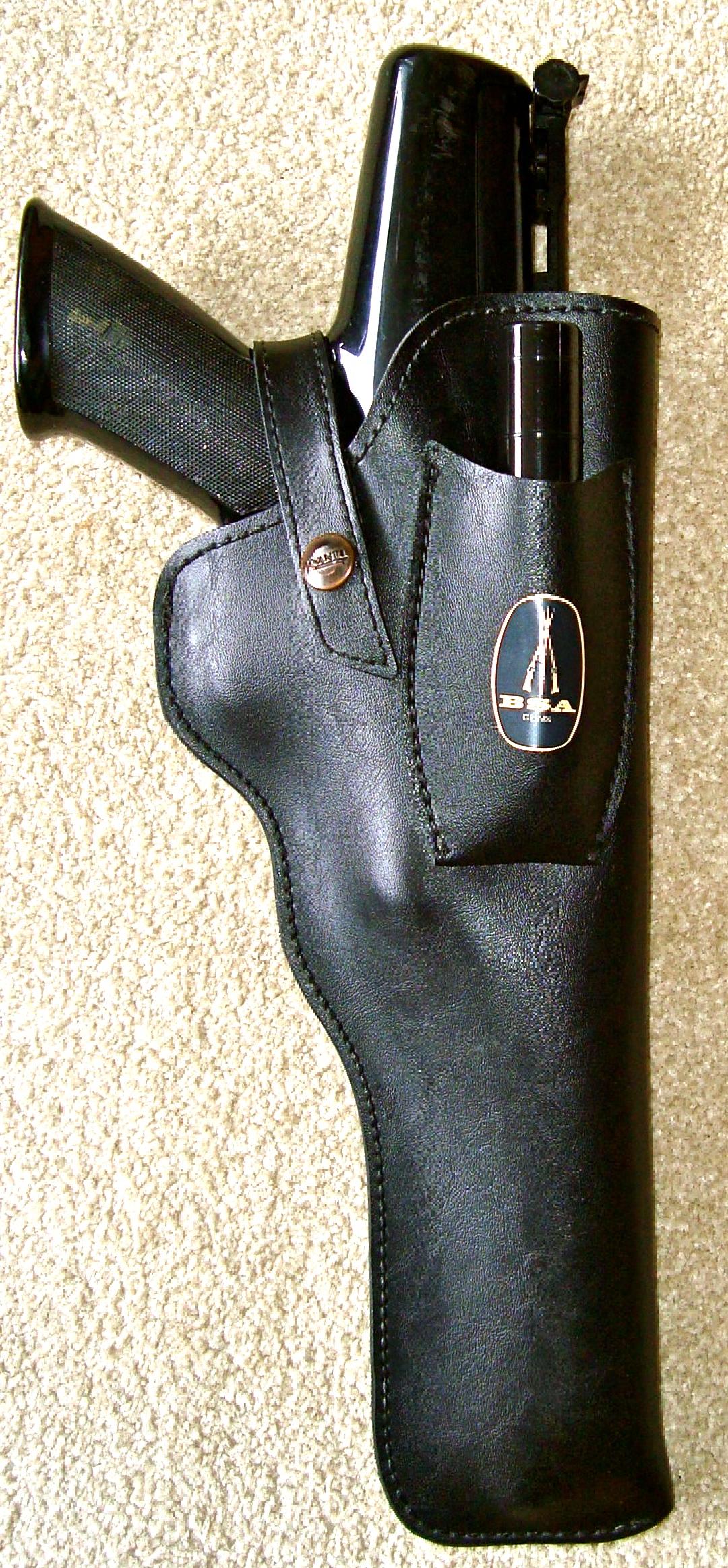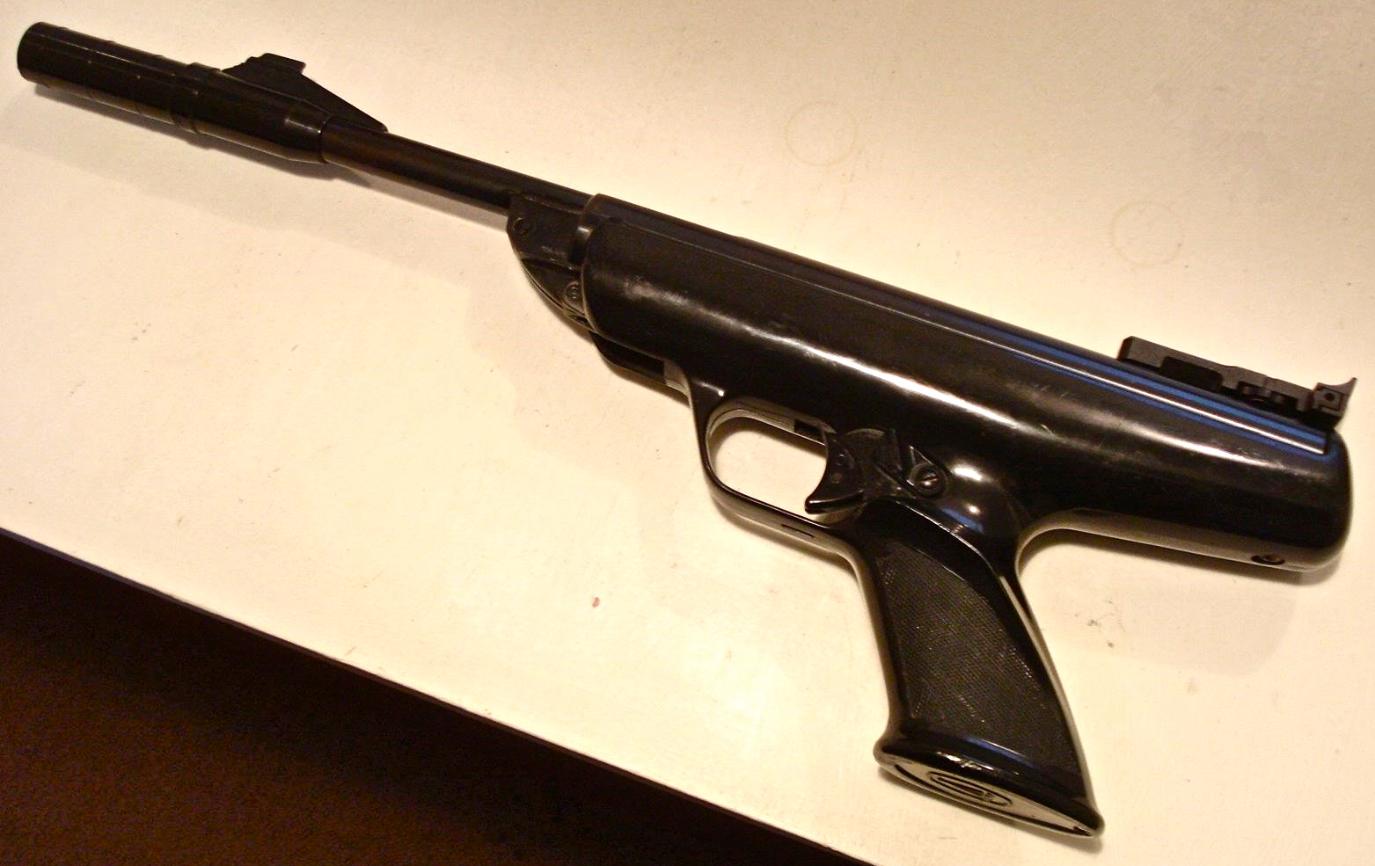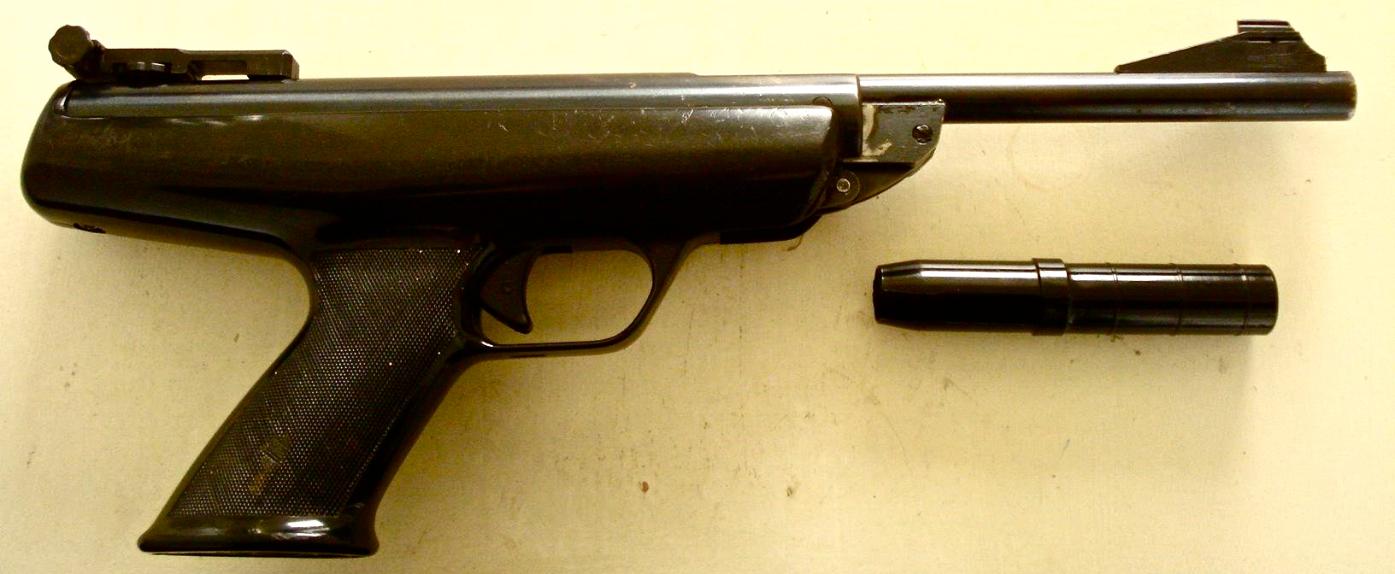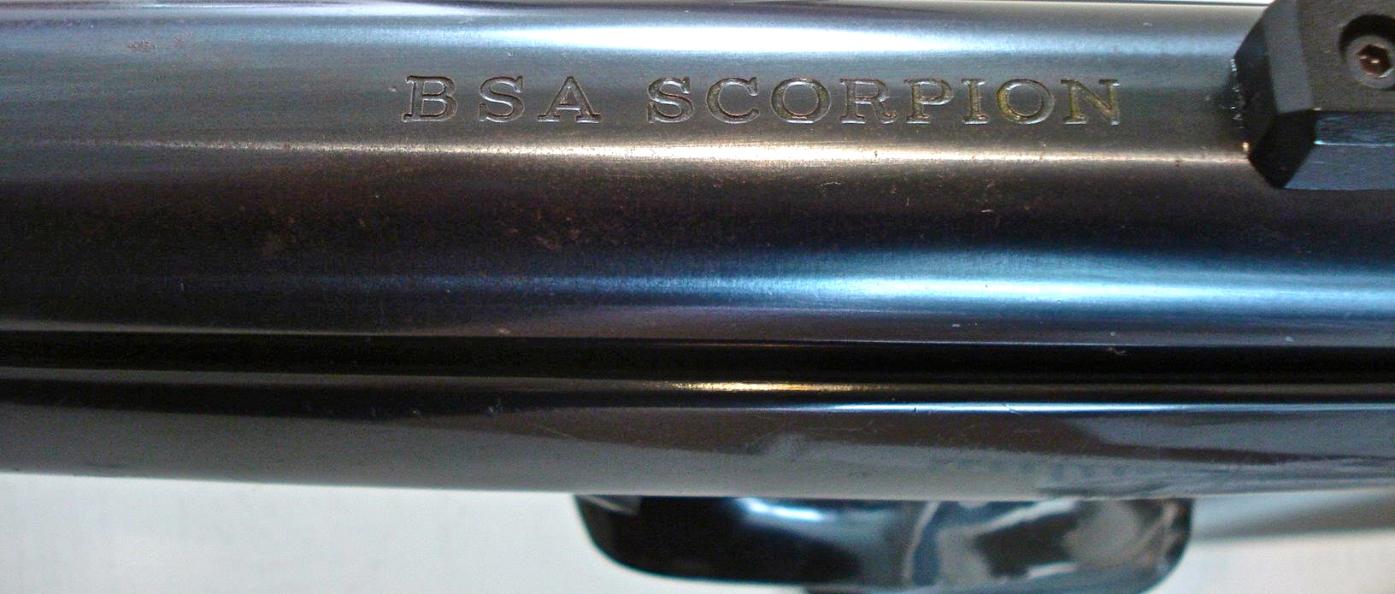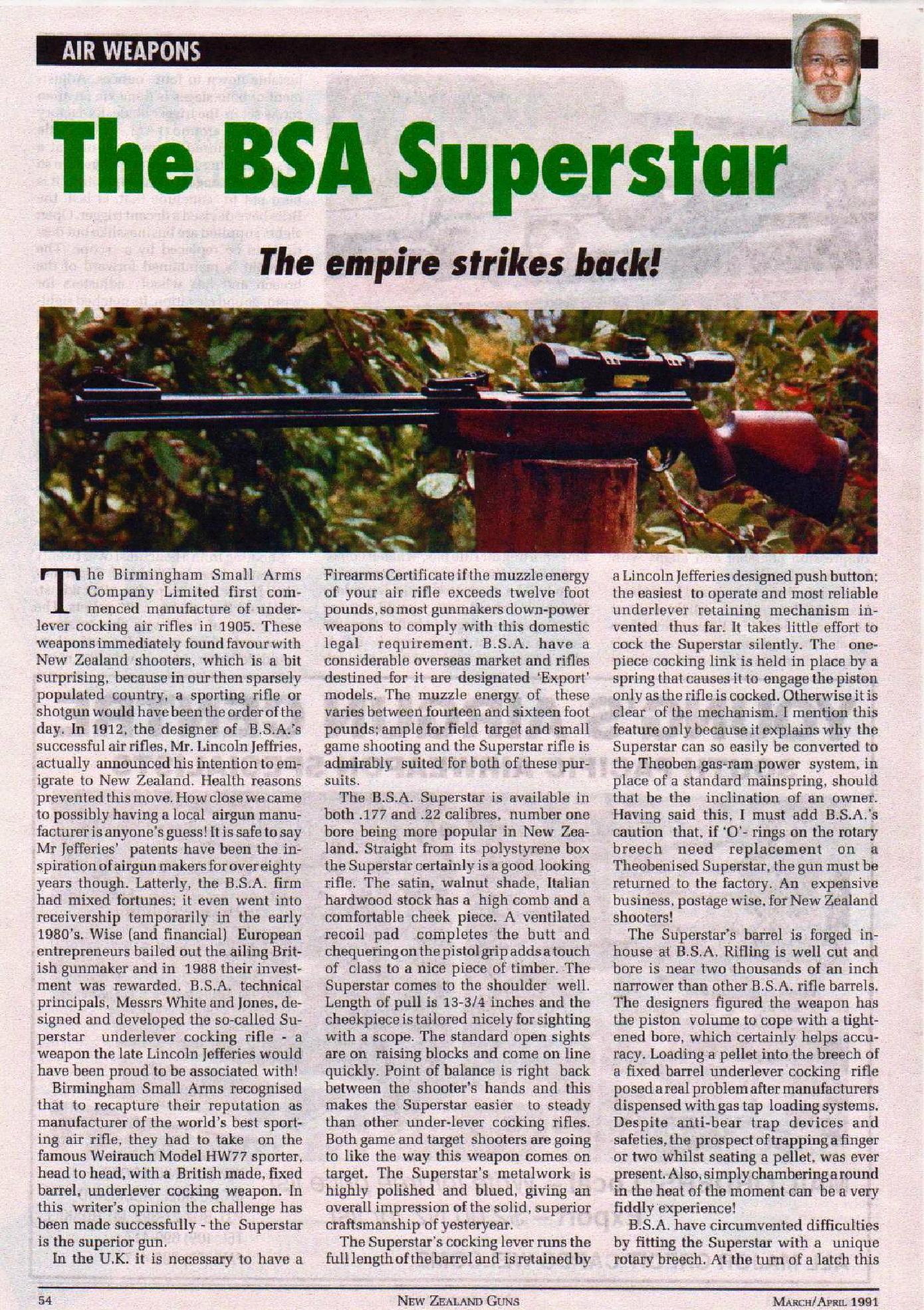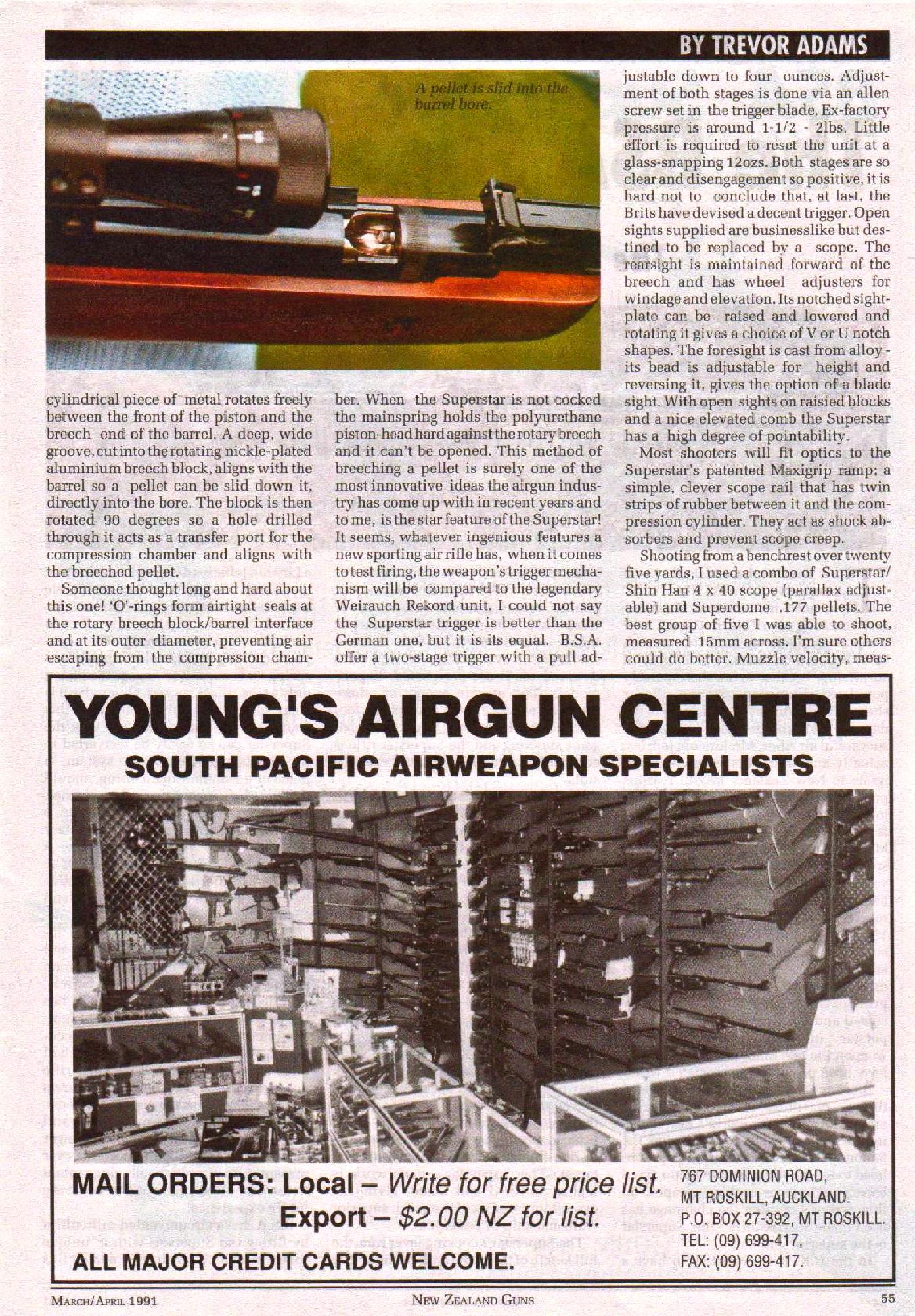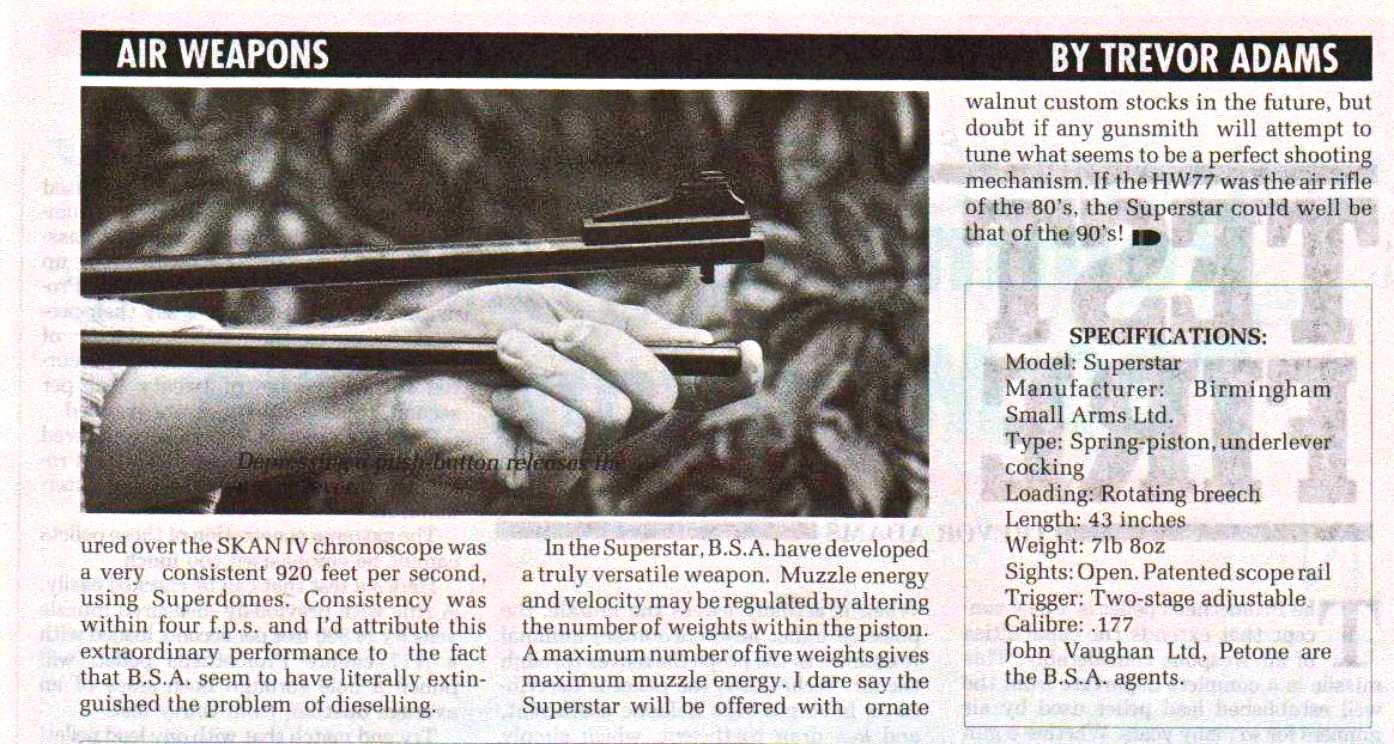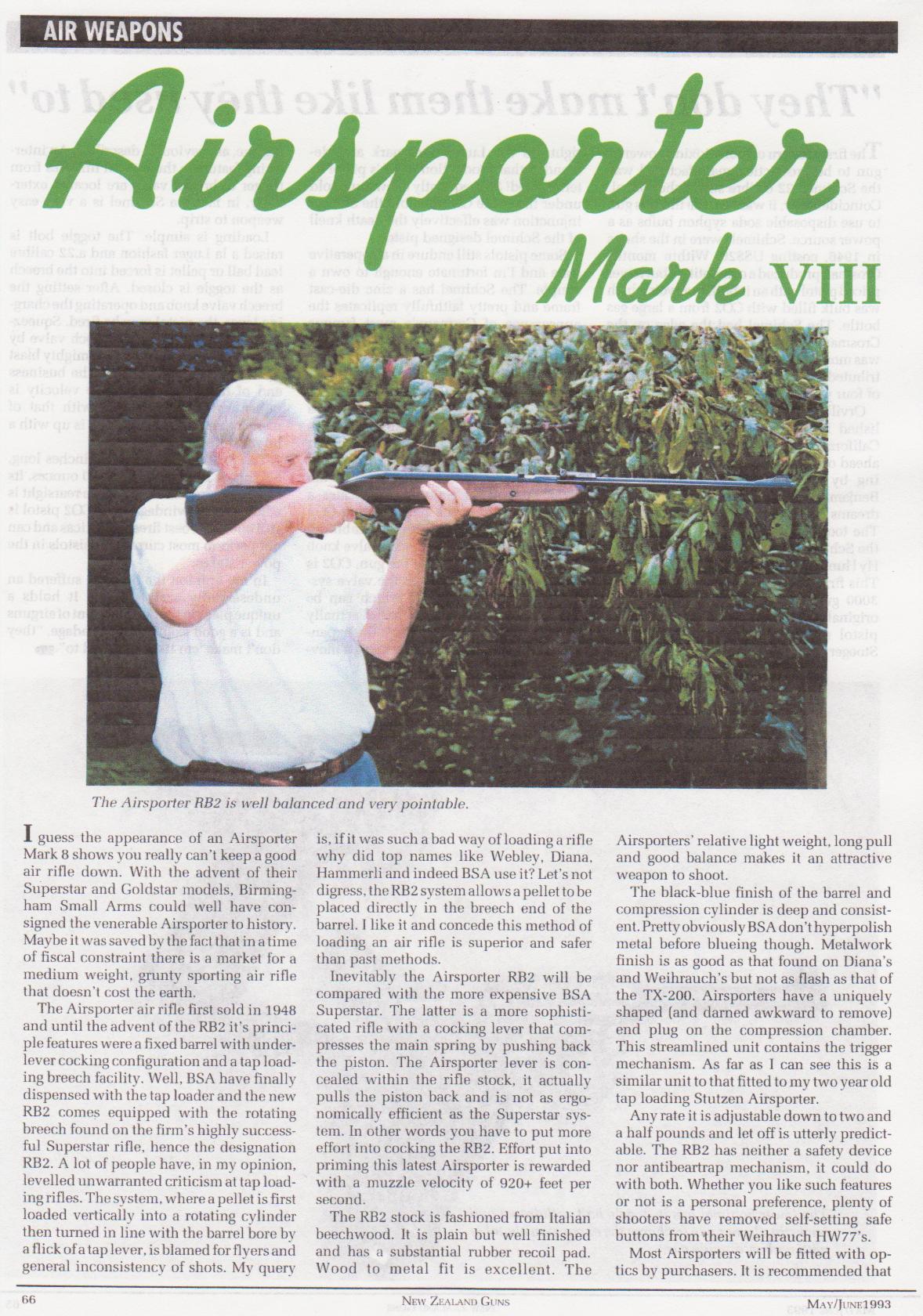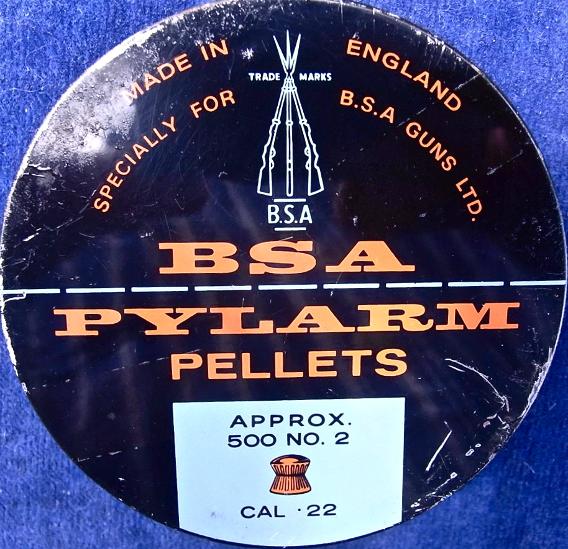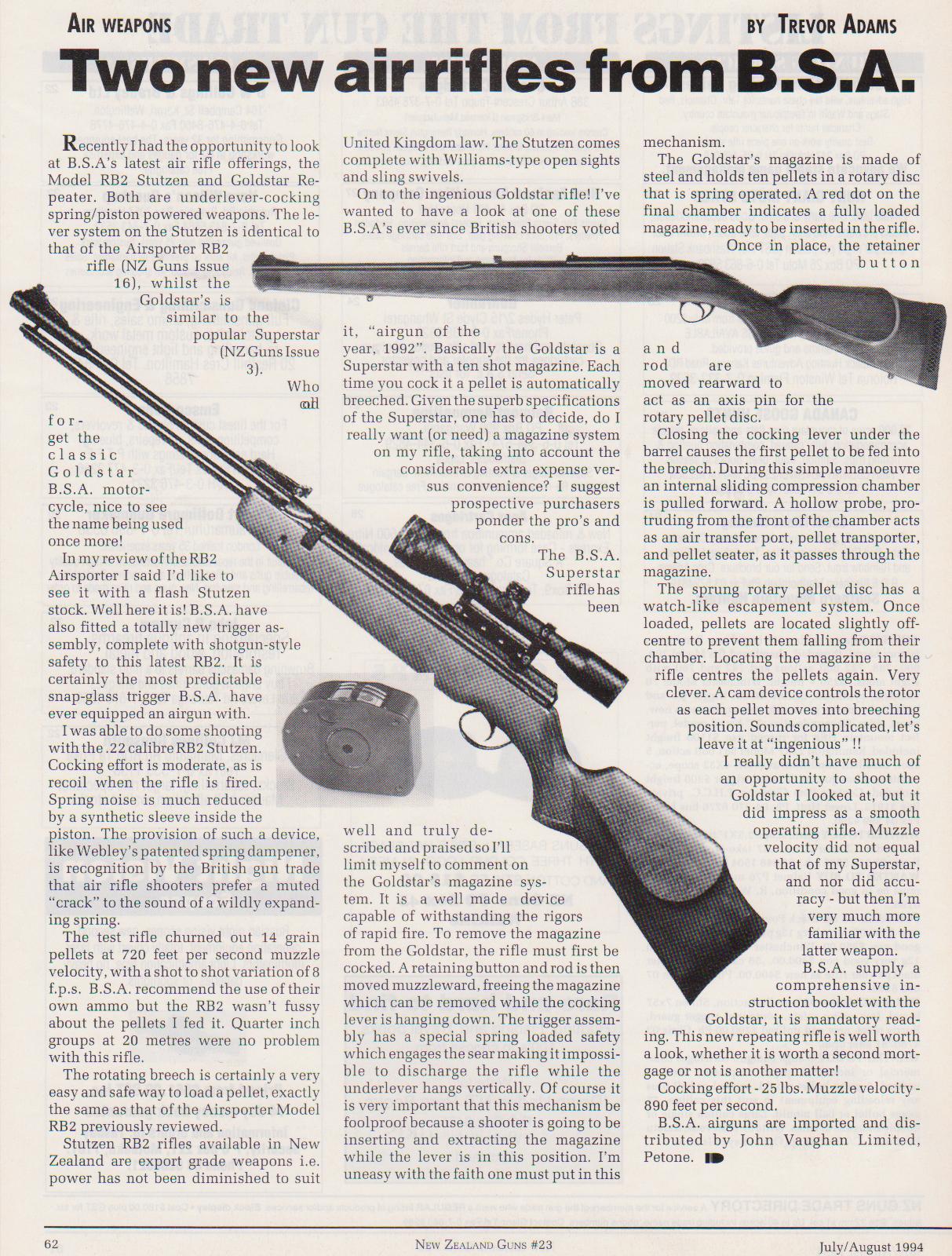 From the BSA Museum files.
"Watch out Kaiser Bill!"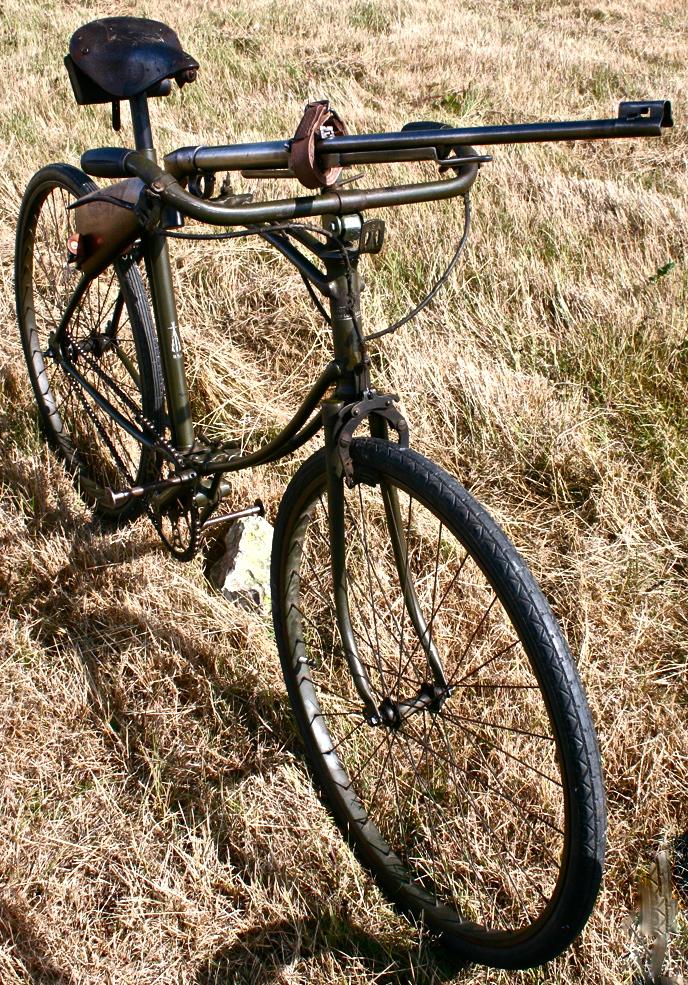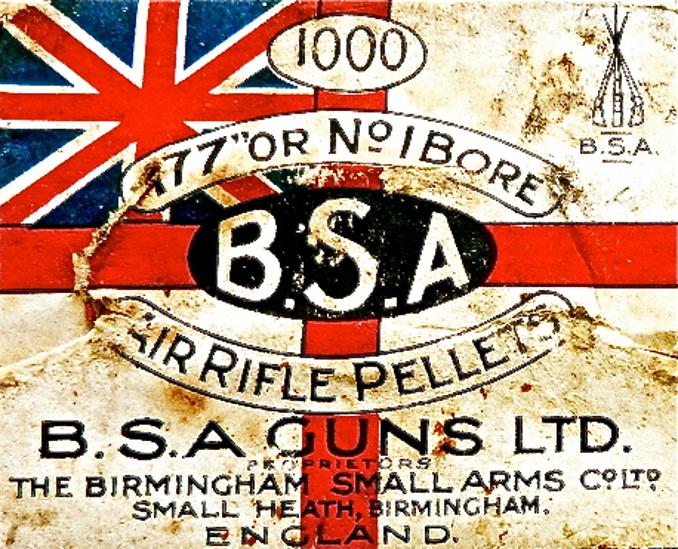 The BSA Gun Laying Trainer Outfit-in New Zealand
The layer came in a sizable green painted steel trunk which also contained a motor,pulleys and flexible steel wires. Also included was a set of targets.Miniature,tanks,trucks and telegraph poles! All made from black rubber and nicely marked with the NZ Defence logo and the date. The whole set-up was laid out on a field in a triangular shape.The wire traversing the base of the triangle had the targets attached to it. A tank-a Valentine,with gun laying trainer fitted ,was at the apex of the triangle. A chap, manning the vehicle's two-pounder gun with a pellet-shooting insert, endeavoured to hit the rubber targets as the motorised base wire paraded them before the muzzle of his gun.
I was in the army at the time(1955) but didn't ever see any cavalry playing with this quaint BSA-made gadget.
Pic.BSA Gallery.